Jump to Content
My team at Dimensional Innovations was asked to create something amazing for Boulevardia, a two day festival of music, food and (of course) beer. Our designated space was a small area immediately after the main entrance of the venue grounds. We knew we wanted to create something iconic, interactive and engaging—it had to be a landmark that welcomed visitors and took them away from Kansas City into a whole other nation: the nation of Boulevardia!
After a few false starts (including a concept that involved Solo cups and chain link fence that I don't want to talk about), we landed on a concept that we could knock out of the park: an oversized electric guitar you could actually play. Honestly, I didn't know if we would be able to make this happen, but we were smitten with the idea and pitched it to the team.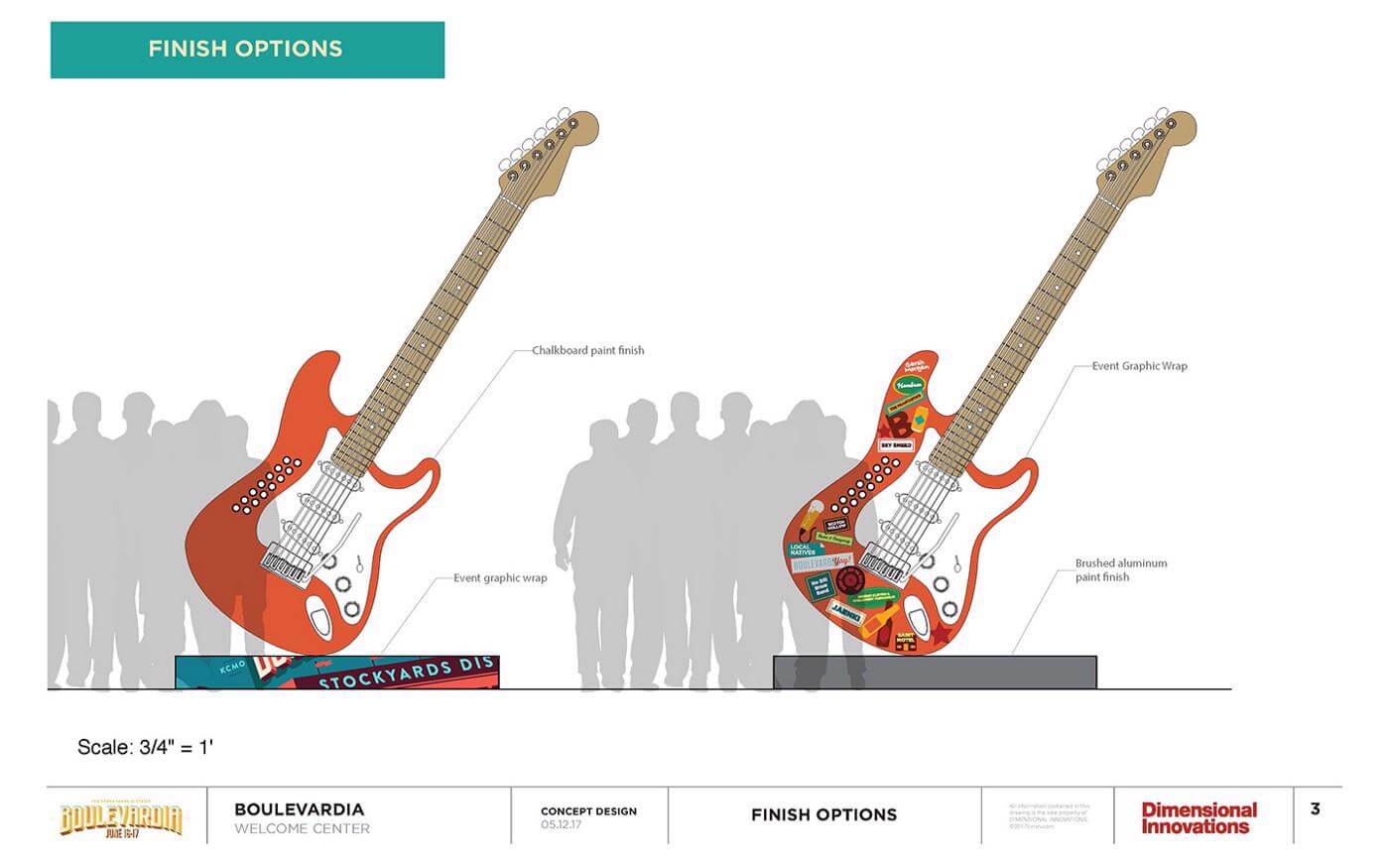 The first task was to prototype the electronics that would make the guitar playable. Without that, we'd just have a huge guitar sculpture. I had been looking for an excuse to use a Bare Conductive board and it was the perfect fit for the job. The Bare Conductive touch board extends a capacitive touch surface through any conductive connected material.
The touch board would be programmed just like an Arduino, as a simple script sent serial messages when a string was touched or released. The touch board was then connected to a Raspberry Pi that responded to those messages and played WAV files based on which string was touched.
Our goal was to have the strings respond just like they would on an actual guitar, with the touching and releasing of each string ringing or silencing based on the interaction. I tried recording isolated notes with one of my guitars, but the sound was inconsistent and weird. Instead, we exported guitar notes from GarageBand to get the perfect tones that were of identical duration and volume.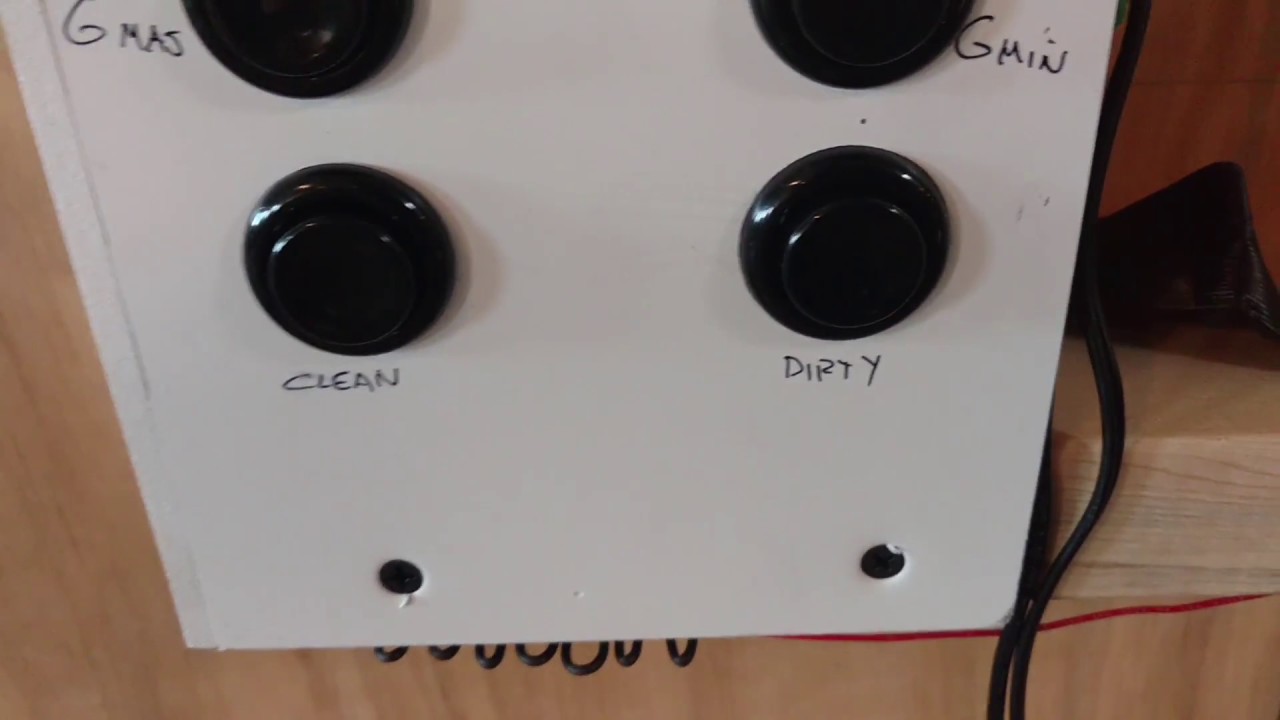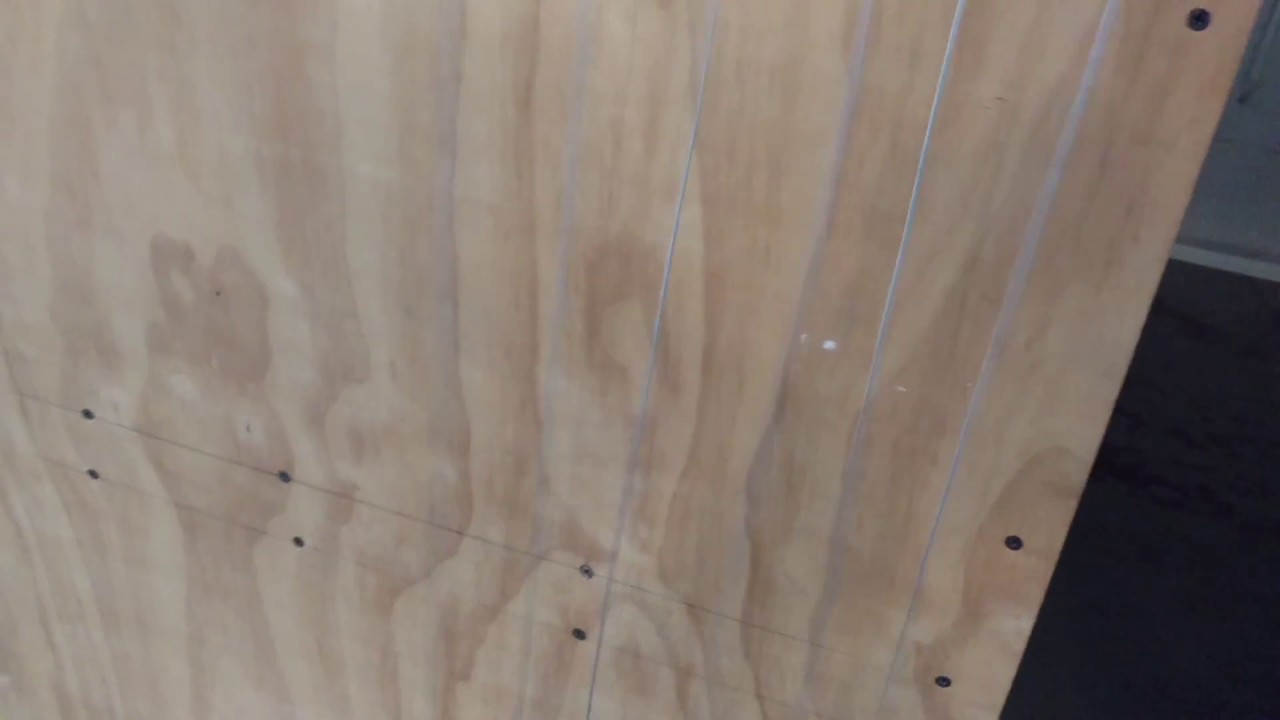 From Notes to Chords
This was a very promising start, but we had to make playing the guitar more expressive than playing random chords. We wired several arcade buttons to the GPIO pins on the Raspberry Pi so that players could pick a chord to play, including A through G, both major and minor. Players could also put the guitar in Clean or Dirty mode, depending on how hard they wanted to rock. The Pi ran a Python script that plays or stops sounds based on string touch events, chord selection and mode selection.
I ran into issues with the 3.5mm audio jack on the Pi—namely, it's noisy as hell. Instead, we used the HDMI as an audio-out with the help of an HDMI to VGA/audio adapter. That gave us super clean audio which I ran to a powered stage monitor for amplification. It was plenty loud (just ask all my office mates, who I no doubt irritated the hell out of).
A Branded Community Connection
In order to connect the guitar back to the festival, we wanted its design to nod to the breweries and bands that take part in Boulevardia. Over a dozen designers at DI created "stickers" for each band that played the festival, taking design cues from Boulevardia's own branding and design elements. We also produced stickers for each brewery using their logos, printing them in-house on 3M Controltac.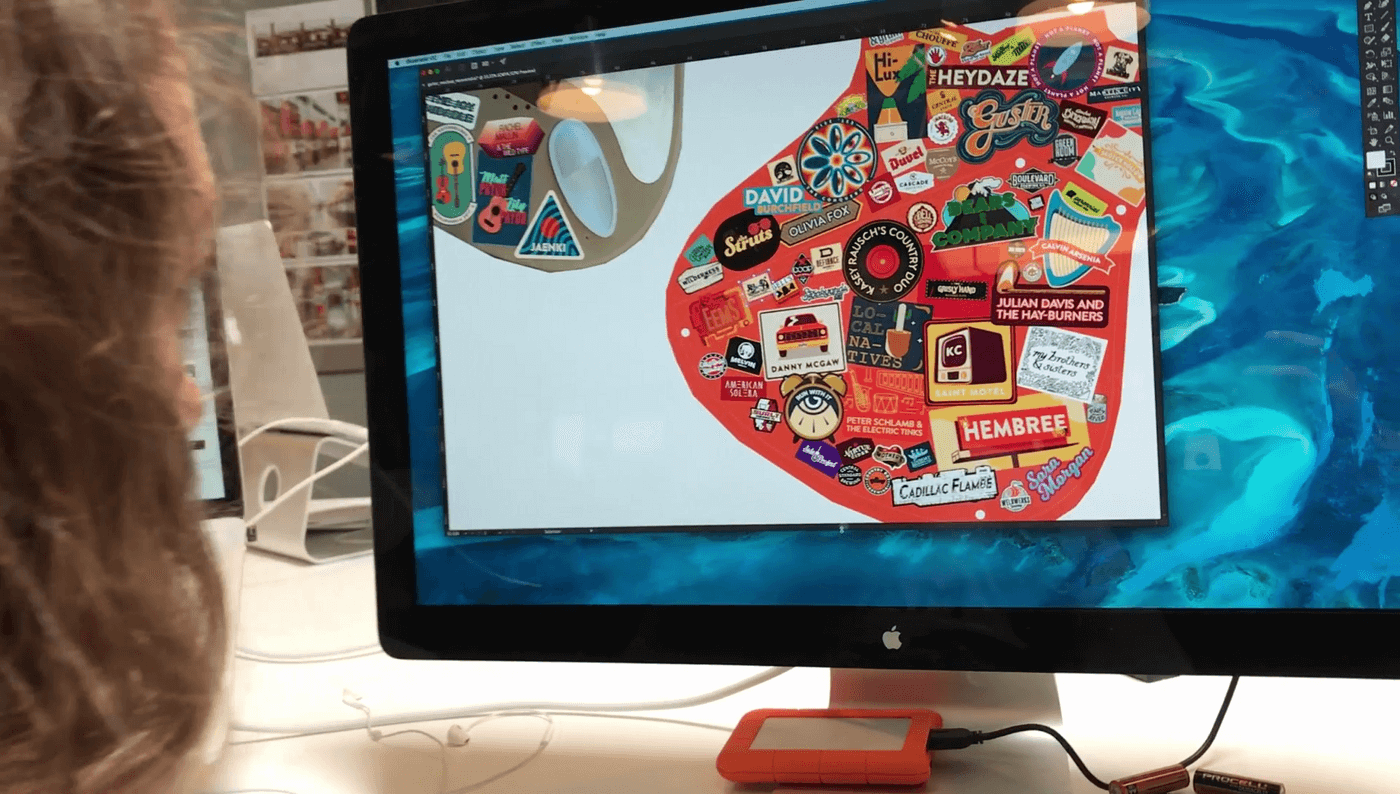 Bringing Our Vision to Life
The next step was engineering and fabrication. While this is completely out of my wheelhouse, thankfully, DI has amazing engineering talent. Our engineer team designed a solution for creating and mounting what would become a 500-pound guitar made of MDF and steel.
All of the parts for the body and neck of the guitar were milled on one of our CNC machines with the body of the guitar made of several layers of 3/4″ MDF laminated together. We also added cavities inside the main body to house the wiring and electronics.
Once the parts were cut, we were off to the races with fabrication, paint, finishes and installation. I'm constantly blown away by the insane talent of our fabricators and artists. They made the guitar look ten times better than I could have hoped.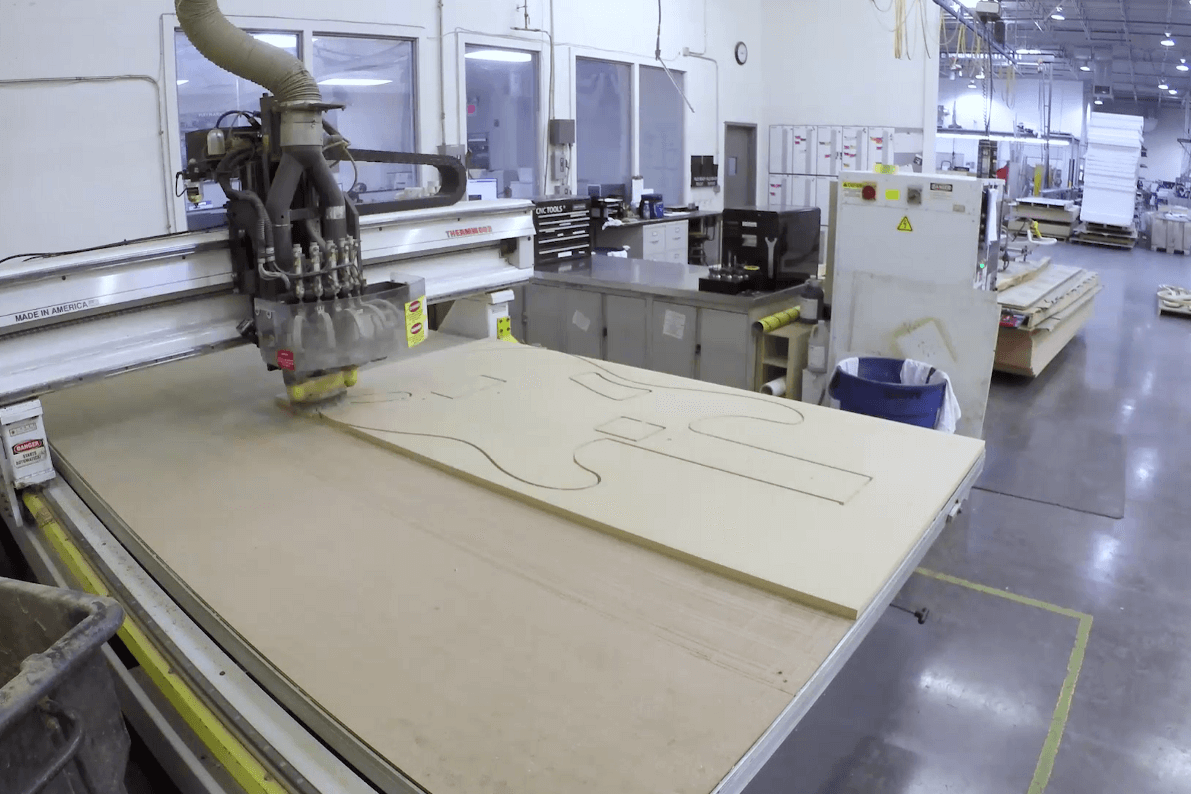 An Electric Experience
The reaction we got at the event was overwhelming. It was being played and photographed for the entire duration of the festival. The looks on people's faces when they strummed the strings was absolutely awesome. That's truly why I love working in interactive installation: you get to see how your work affects people.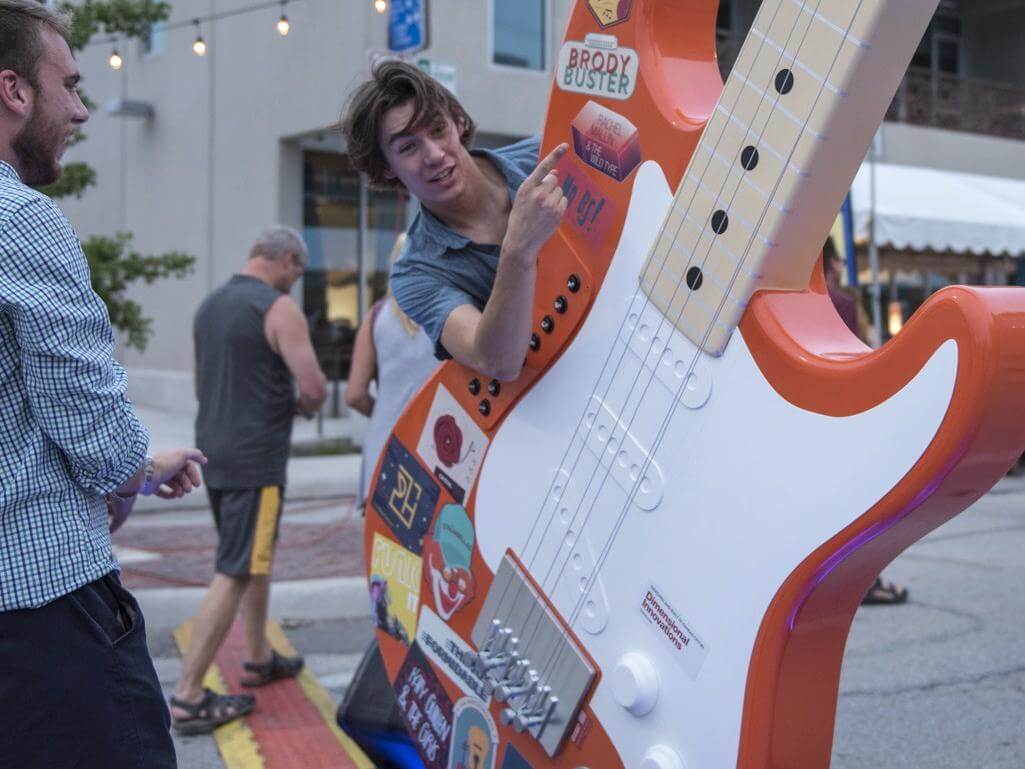 The guitar was also a hit on social media, and became a regular feature in posts from the event. Brody Buster even snapped a photo featuring his sticker (I'm a big fan of Brody, so this made me really happy to see).
This assignment was without a doubt one of the most exciting, challenging and rewarding projects I've been a part of. From concept to execution, the entire project took only five weeks. The fact that we pulled this off in so little time speaks to the talent and dedication of the people I get to work with.