Jump to Content
The entertainment and retail industries have taken some massive hits due to unforeseen challenges in the past couple of years. But, they have also made significant strides by quickly implementing temporary and permanent measures that have allowed them to serve their customers effectively and still provide remarkable experiences.
Now that we have had time to reflect, I wanted to summarize my thoughts with a few relevant quotes. I would put down a few quotes from myself, but since I don't have my own themed dynasty (yet), let's go with someone a little more famous: Walt Disney.
Everyone falls down. Getting back up
is how you learn how to walk."
Walt Disney, American entrepreneur
When I look at the current state of entertainment and retail experiences, no one stayed down after that initial "gut-punch." We all got up and started walking again—creating, innovating, and fighting to give customers new experiences. Location-based entertainment like Meow Wolf, Illuminarium, and others made immersive entertainment even more immersive. Casino and movie theatre companies like Caesars Entertainment, AMC, and Cinemark started to get back to form, first by focusing on safety, and then by getting back to their roots, creating experiences you simply cannot get from home.
We also saw the in-store experience continue to evolve and provide a purpose. But, while online clicks and curbside pick-up continue to be the norm and drive revenue, consumers still gravitate to the in-store experience, especially if we give them a reason to do so. We see this with companies like LEGO, Under Armour, and DICK'S Sporting Goods.
DICK'S Sporting Goods deserves special mention here. It is hard to look around the retail landscape of 2021 and not admire their experiential efforts. During Adweek's Commerce Week event, Steve Miller, SVP of Strategy, E-commerce, and Analytics, summarized their new concepts by asking this question: "If there was a store that would open next to us that would scare us, what would that store look like?" It was an inspiring way to respond to today's challenges of the in-person shopping experience. To not back down and make sure that their customers are always top of mind.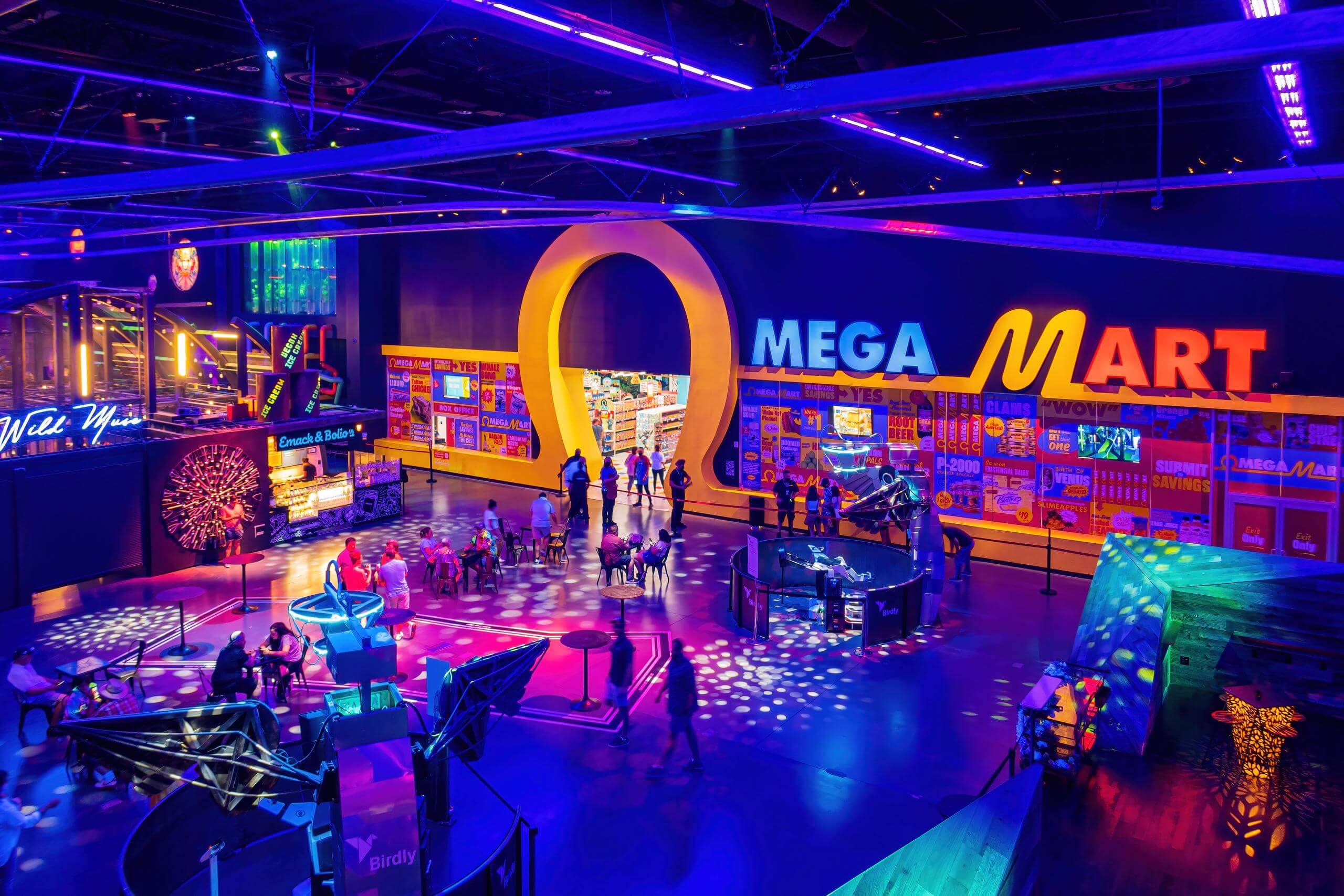 Another highlight from this past year is seeing how reactive companies improve the guest experience. (Well, as fast as they can with ships stalled along the way.) There is literally no time to pause and see how things play out in today's environment. As previously mentioned by Steve Miller, when you decide to wait on that new concept, your biggest competitor is making headlines with a new rollout or perhaps moving in next door. We are likely witnessing the biggest experiential arms race of our lifetime.
Consumer expectations are higher than ever, creating a shift from only a digital-first strategy to one that doubles down on the physical experience. Current and future customers will continue to gravitate towards community-based activities and experiences. If companies cannot deliver in this space, people will quickly move on to the competition.
Moving into next year, this "innovative arms race" will continue to come to a head in the entertainment industry when Universal Orlando finalizes a revamped plan for their new Epic Universe property. From what we're hearing, this new park will certainly drive fans to Orlando for an extended stay, forcing Disney, Merlin, and other competitors in this space to rethink how they are investing in the future.
Everyone needs deadlines. Even the beavers. They loaf around all summer, but when they are faced with the winter deadline, they work like fury.
If we didn't have deadlines, we'd stagnate."
Walt Disney, American entrepreneur
The same model could also be adopted for the casino industry, large-scale retail developments, and shopping centers. When competitors show their cards to how they are investing in the future, the renovation clock for the next experience starts to speed up significantly. To be competitive and continue driving guests into your space, you need to establish a deadline and execute your idea with purpose. (OK, I am going to go ahead and quote myself here: "If there were no deadlines, we would have the McRib year-round." – Spencer Farley.)
Disneyland will never be completed. It will continue to grow
as long as there is imagination left in the world."
Walt Disney, American entrepreneur
What a way to punctuate this narrative. You can't stop innovating. It's something I see every day. I have the pleasure of working alongside 250 of the most creative and imaginative people in the world. I firmly believe that. Just the other day, some team members were excited to show me new technologies and pulled me into our Innovations Lab for an update. My response was, "This is so cool, what app are we using to give it that effect?" They replied, "App? We just created this program." All I could say was, "Well, knowing that makes it a whole lot impactful!"
I'm excited about what lies ahead in the entertainment and retail space in 2022. Being immersed in an experience is no longer as surprising as it once was. Now, it's the expectation. What will be the next Meow Wolf or Illuminarium? What's the next retail concept to challenge DICK'S or LEGO? What IP will lead the next innovative arms race in the themed entertainment space? What does AMC or Cinemark have up their sleeves? And closer to home, what is Dimensional Innovations up to in our Lab? Stay tuned, or reach out for more!
Cheers,