Jump to Content
Looking for new ways to reach your audience? Concerts and music festivals might be your best way to connect. Live Nation, an American events promoter and venue operator, recently saw "double-digit growth in profit sectors of sponsorship and advertising (up 12% to $80.5 million and involving such brands as American Eagle and General Mills)" according to their Q2 report for 2018 (Variety). With a variety of opportunities for fans to interact with your brand, we explore why concerts have the draw they do, why brands are shifting dollars to festival sponsorships, and ways to create a successful, branded social media activation.
Where Sponsors Are Putting Their Dollars
It's no shocker that music makes us feel good; why else would concerts be an estimated $8.2 billion industry, with over 68 million tickets sold in 2017 (Statistic Brain Research Institute). Of the approximately 32 million people who are already in the know on "music=happiness," nearly half of them are between the ages of 18-34—the largest group and split almost evenly between men and women (49% men, 51% women). (Nielsen's Audience Insights Report on Music Festivals) The effervescent nature of our love of music has driven us to define why we love it and how it affects us—some research lending us results such as live music potentially extending our lives as much as nine years and attending even just 20 minutes of live music once every two weeks can increase general well-being.

So how do venues and corporate sponsors tap into this and keep audiences coming back? Research from the 2018 Corporate Sponsor/Advertiser Industry Report conducted by Seaver Marketing Group has shown a significant shift of sponsorship dollars from solely sports to focus on "live events, music and lifestyle events." It's not enough to just be hooked on a feeling, activations need to make an impactful connection that will be just as memorable as the performance itself.
Understanding why your audience is attending an event is key to reaching them. Music is innately emotional, so the key drivers for choosing live music over what you can stream on Spotify are also tuned to an emotional experience (according to GMR's Music + Memories, the top four are: Belonging, Release, Identity, and Enrichment). The activations that take center stage are ones that help fans document their experiences; boldly stating, "I was here, in this moment."
Why Choose Social Activations?
Concerts and live events these days are all about the photos (#PicsOrItDidntHappen). Dimensional Innovations recently teamed up with Live Nation to create customized, sponsored "social media units" for many of their outdoor venues. These Instagram-ready spots serve two main purposes: allowing fans to memorialize their time at a particular show and acting as a way for visitors to "check-in" at Live Nation venues.
As a result of conducting a comprehensive venue analysis…we were excited to partner with DI to create larger-than-life social activations at our outdoor venues,
which allow fans to capture that perfect moment at their favorite show and turn it into a branded digital keepsake.
JP Goulard, Project Manager, Media & Sponsorship at Live Nation
From rock to pop to local talent (with the bonus of great, cold beers), our sponsor and fan activations have been around some incredible music festivals. Check out some of our favorites below: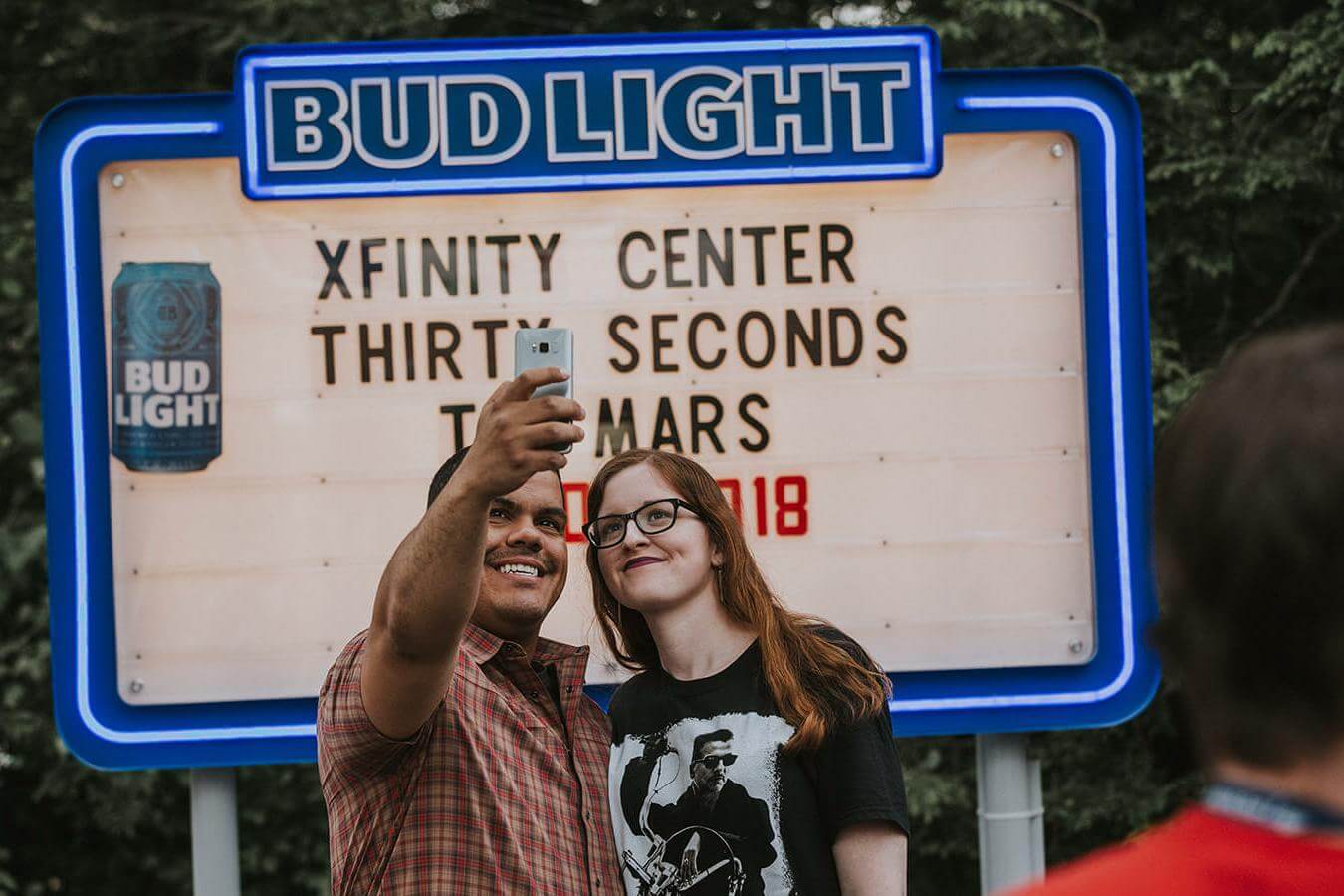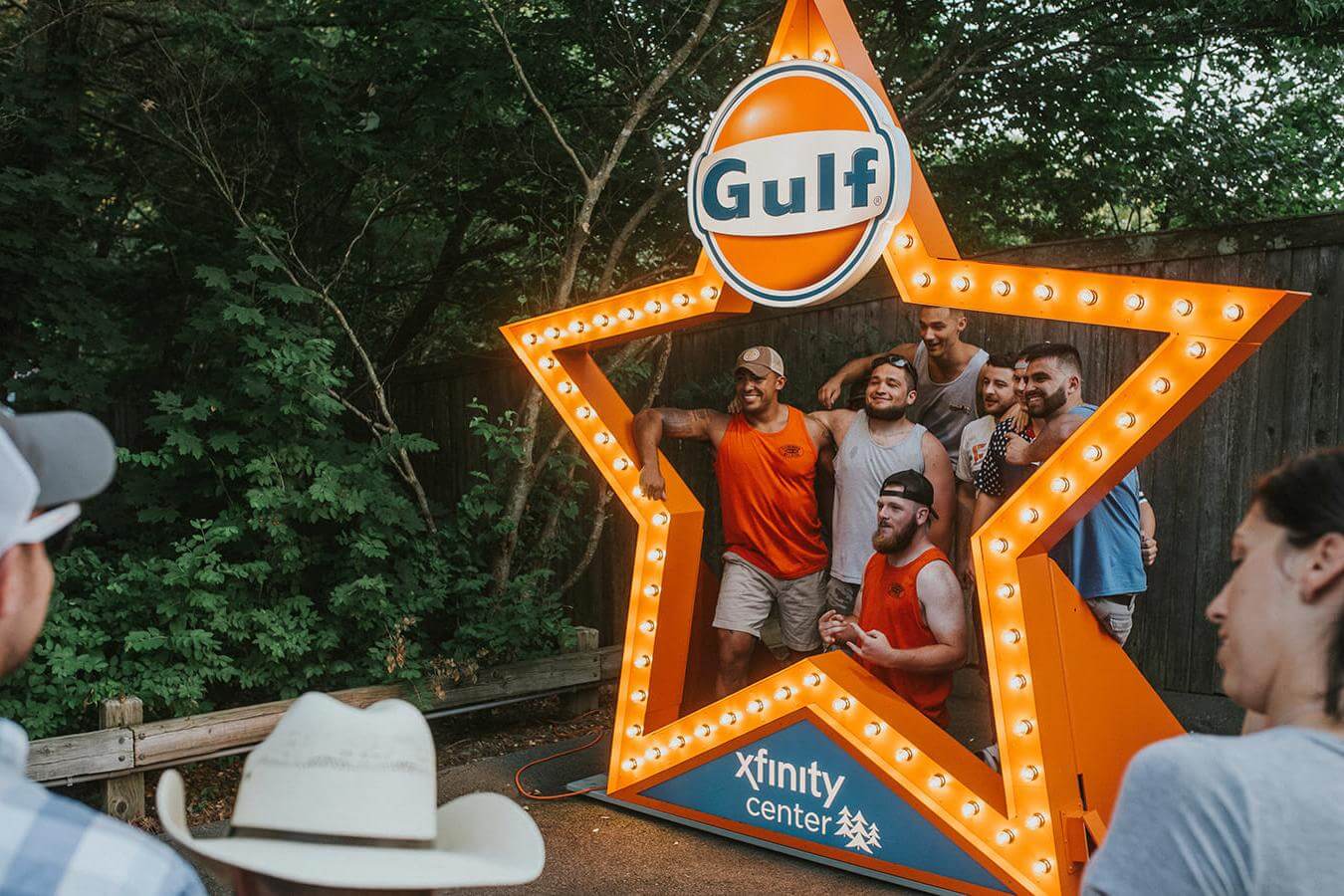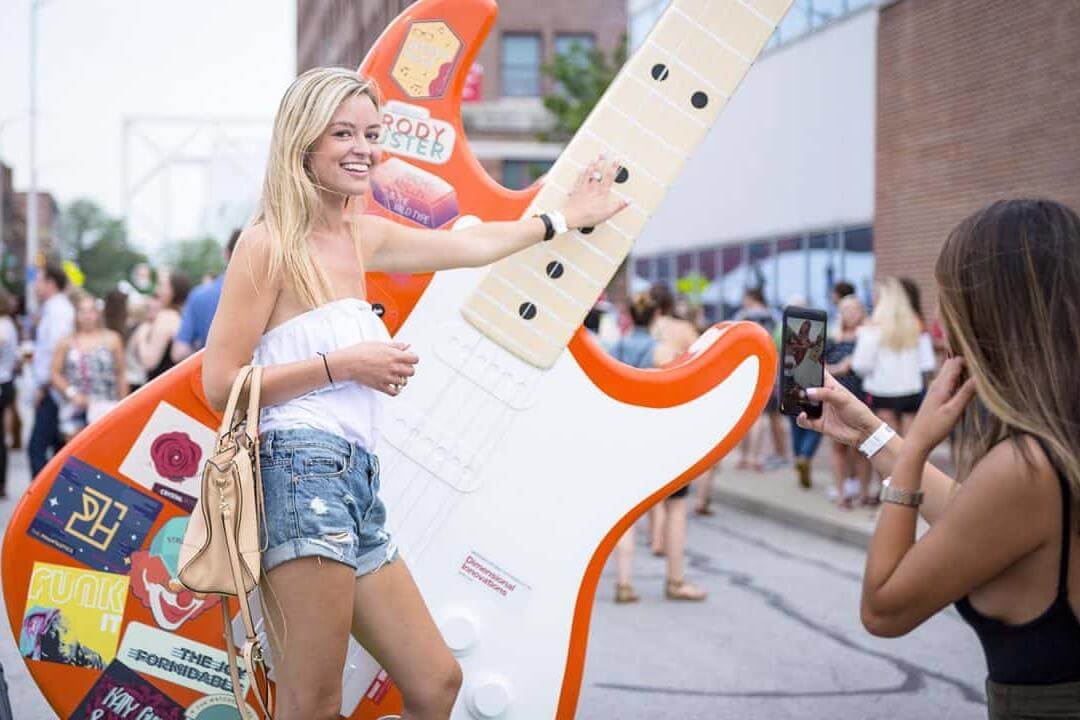 Questions to Ask While Designing
Designing with the end result—that #instagramworthy shot—in mind is crucial. Is it a flexible corporate sponsorship activation that can change with each performer that comes to the venue? Can fans interact with it; even better, can they make their own music on it? Most importantly, is the final shot going to create the appropriate amount of #FOMO (fear of missing out) in the fans that were on the fence about attending?
When visiting some of these outdoor sites, we noticed that the scale was fairly grand…Giving visitors something smaller scale to interact with was an Ah-ha moment.
What we designed is extremely successful in that it draws folks in and creates a digital memento to share with their friends—while making it very obvious where you were at the time.
Rick Smith, Executive Creative Director at Dimensional Innovations
Sponsored social activations take into account the audience, brand, and environment. With 31% of Millennials reportedly using their phones for more than half of a music festival (Harris Interactive), there's no doubt that these activations are the way to connect with your audience—both those at the venue and those scrolling through their feed.