Jump to Content
People are yearning for a sense of community and connectivity that went dormant during the height of the pandemic. Will college sports be ready to raise its fan engagement game this fall so attending the 'big game' also stays on the calendar?
Brand Affinity & Experiential Tailgating
In college sports, everyone is a supporter of the university mark. The fans are still driven by their connection to their school. The goal (for athletic departments) is to keep your school's 'tribe' strong by staying connected, establishing a strong sense of community, and, of course, winning still matters.
With the pandemic reverb chilling sporting event attendance and the clamor for elevated fan experiences, fan connectivity is crucial. It's an important factor to create an emotional environment. We still see that the most raucous, crazy, passionate places provide that competitive advantage. Those foundational live-sporting event elements are why people are there; we can't forget that.
With that in mind, competitive success and entertainment aren't mutually exclusive ideas. One cutting-edge concept DI has identified is the opportunity to build the fan experience to the sky---literally. Enter: tailgate platforms built above parking spots.
The idea is that you could Airbnb in your parking lot, which would be pretty cool. When we started exploring the tailgating platform concept early on, one thing that started to pop up was the ability to use something like that for multiple events.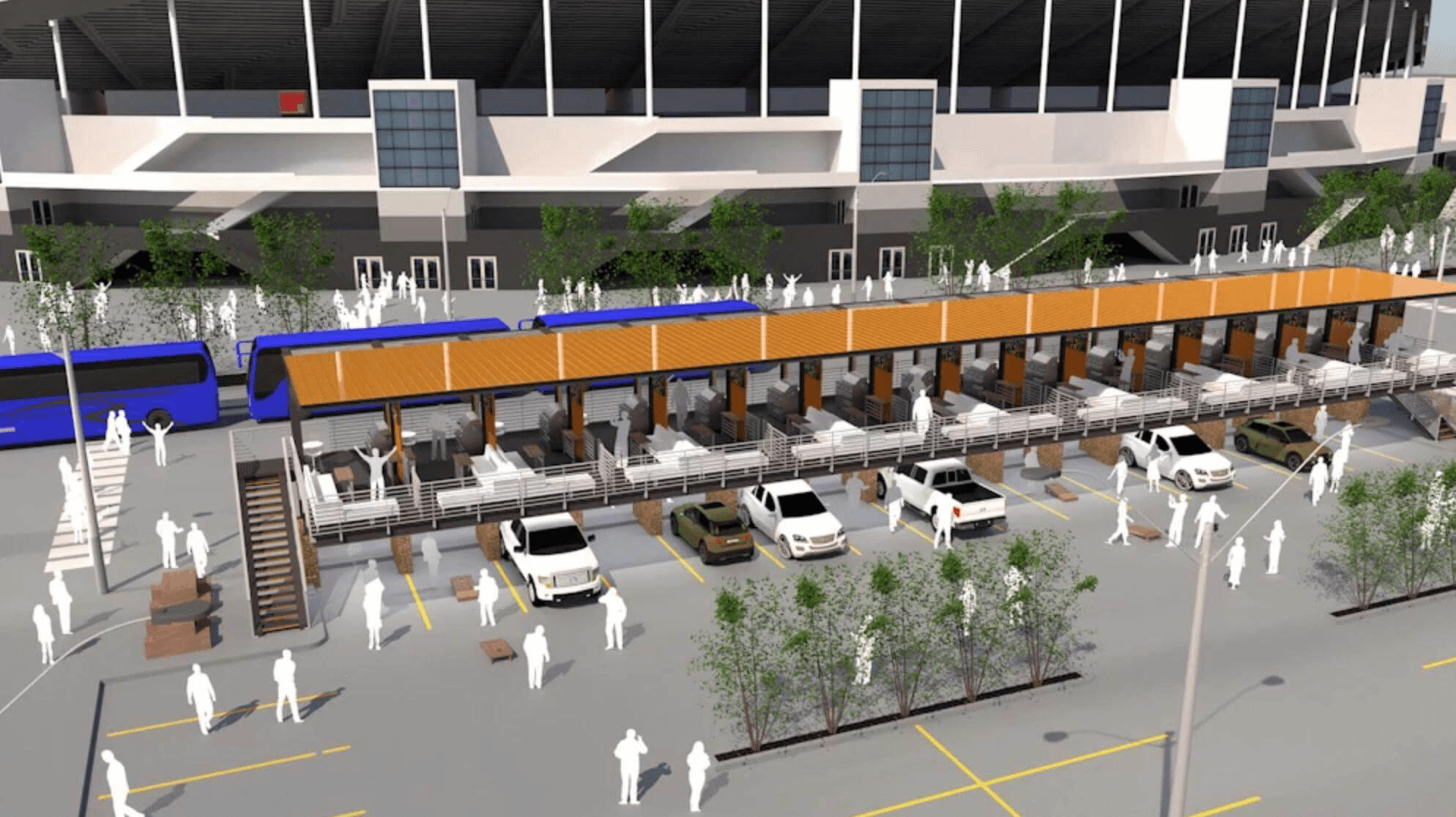 It reminds me of the boating industry, where boaters hitched boats to the same dock or pulled boats together. Or even the RV experience, where people bring all their amenities, and multiple platforms in a row bring that sense of community. It's all inspired by tailgating and creating that inherently community-based experience to provide fans a perch to enjoy the crowds and pre-game festivities.
The potential for adding new features to your stadium infrastructure that offer multi-purpose usage (and additional revenue) shouldn't be overlooked. Depending on construction, tailgate towers could also be used as hotels or housing rentals.
College football stadiums---some holding north of 100,000 people are only used for home games six or seven times a year. That's not enough use. With that in mind, college athletic departments are exploring how to cross-leverage their facilities. For example, a football stadium parking lot might also offer fan experiences for the nearby baseball, softball, or soccer stadiums, noting that parking lots are used for multiple events.
In addition to tailgating from an elevated perch, the commitment to fan connectivity and fun around your home games can also go mobile.
We've moved into mobile unit concepts. In other words, a bar on wheels that could move from place to place around your venue. The concept would include storage functionality where a bar on wheels could fold up into a cube.
Don't get me wrong, it can't go on the highway, but it can move from one parking lot on one day to another on campus. In the hours before kickoff, a mobile train brings people together in a visible, communal way. Our team has seen the opportunity for fans to move from location to location, from football to baseball, or other events. This has been a breakthrough in some of our current design projects.
It's about making a memorable community atmosphere and cultivating personal connections.
In addition to these new fan experience concepts, staying in tune with one's fanbase means ensuring an athletic department covers its fan experience fundamentals.
We live in a digital, social-sharing world. Browsing on the internet, all those things we do makes connectivity important. Enter the importance of Wi-Fi connections in stadiums.
From an EdTech Magazine for Higher Education article earlier this year, "It's not enough to have a great team; colleges need stadiums capable of delivering superior sports experiences to keep fans coming back." Investment in physical stadium infrastructure is massive: Michigan Stadium, the nation's largest college football facility, seats 107,601. By contrast, the biggest NFL stadium in the league — MetLife stadium — tops out at just 82,500.
As technology has rapidly evolved, however, the ideal fan experience is changing. Fans want to stay connected during games, whether watching instant replays on their phones, posting on social media, or even purchasing food and drinks directly from their devices. To make this happen, college stadiums need Wi-Fi connections to keep pace with device demands.
Colleges need to get the fan experience fundamentals right—when a fundamental doesn't work, people notice. Wi-Fi connectivity is its own game-day priority. Fans expect walking into your stadium to get the same connectivity they get in everyday life. If that is suddenly taken away, that makes for a bad experience and detracts from the overall experience.
The college sports fan experience is duplicitous in a way---one part of the experience is in-person, and one part is digital with a smartphone in hand. It's the norm to use the smartphone in stadiums in various ways--texting each other, coordinating pre/during/post game plans, social posting, ordering food, and possibly placing bets as sports gambling grows in the United States.
The emphasis on Wi-Fi in arenas and stadiums is driven by both connectivity with each other as well as the sports content aspect. It's an opportunity for the university to stay engaged with its fans and learn about behaviors. The personal connection between fans and the team itself is important regardless of whether you check email or post on TikTok.
The Fear of Missing Out, Electric Cars & College Football
The fear of missing out (FOMO) plays a huge role in the fan experience. Our team at DI helps universities avoid complacency and embrace cool. That's the value we're creating in college sports.
Cutting-edge technologies create a unique experience made for an effective blend. Take Tesla, for example. They have a very targeted approach. Why did Tesla gain traction against all other electric vehicles? Their innovation is way ahead of everybody else, but they also targeted cool. To own a Tesla is cool.
That formula applies to the college sports fan experience, too.
The goal is to create a place where you have to be there. It feels like home and it feels like family. This is your community.
The importance of game day experience must far exceed what a fan could experience at home with obvious conveniences like no bathroom lines and the comfort of one's couch.
College football stadiums have to be the place on Saturday. People will pay for it if it's the cool place to be.
'I Second That Recruiting Emotion'
Moving from fan experience to recruiting, DI's on-campus projects reflect the importance universities and athletic departments place on tours and the emotional impressions facilities can stir.
We typically make decisions emotionally, and our analytics kick in afterward. We create experiences where recruits can see themselves in that environment when they first walk in. We're trying to make areas that inspire.
We have a generation of young people who are very visual, and we see from social media usage that the visual environment matters a lot. Creating an organic emotion right at the start is so unbelievably important.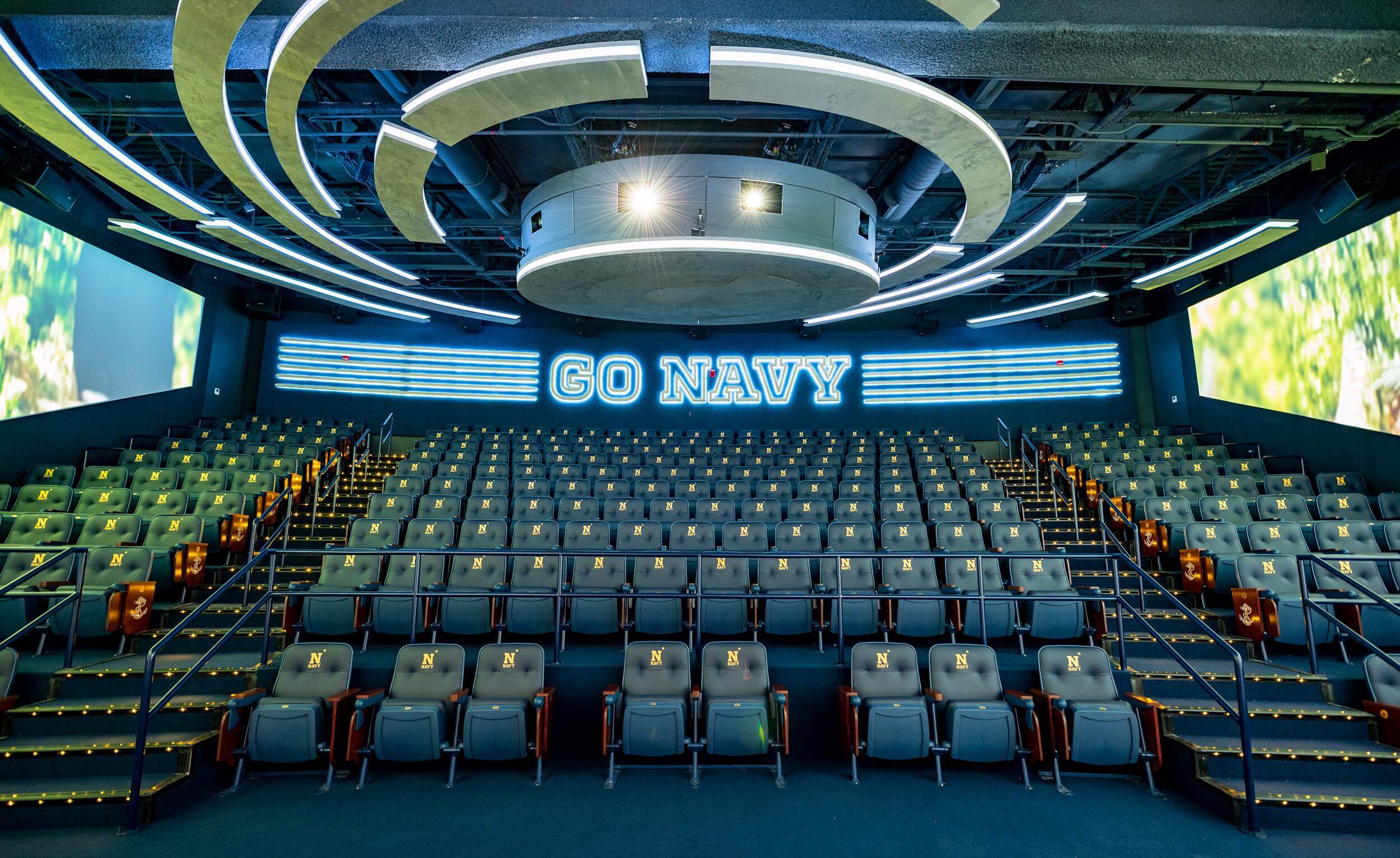 What should athletic department leaders be thinking about when designing facilities for recruiting? The art of cool, driving emotion and promoting connectivity.
Design your facility for a tour. How are recruits going to flow through this building? What messages, experiences and emotions do we want to create as they walk through it? Schools should be thinking in terms of a curated tour.
The Advent of NIL & Opportunity for Content Creation Synergy
As far as NIL, it's the right thing and can lead to a special connection with a university when looking further down the road.
If a kid can get a Lamborghini deal, they should get a Lamborghini deal. That is awesome for them, but it does not affect the value of the university. That doesn't remove the student-athlete from their connection to the university. A student-athlete making money on their likeness is a good thing.
Taking NIL a step further, the new world of content creation capabilities presents an opportunity for schools and student-athletes. We can start to embrace maker and innovation labs -- an untapped resource that I'm excited about.
NIL and future synergy in licensing and co-branding can change the revenue model for Olympic sports with engaging and inspiring content. This approach derives the student-athlete experience and the fan experience together; it is the tide that lifts all the boats.
The Changing College Athletics Landscape
What keeps me up at night? The attempt at decentralization if, in the end, it causes harm to the value of rivalries and tradition. I do wonder how the value of histories and heated rivalries could be impacted by further segmentation.
We got here because KU dislikes Mizzou, and Mizzou dislikes KU. Alabama dislikes Auburn, and Auburn dislikes Alabama -- in a fun way. I hope that institutional connectivity regionally and nationally does not "erode" with the decentralization movement.
Excitable Trends & Final Thoughts
Here are a few final perspectives and exciting trends with design builds that excel the respective experiences for fans, student-athletes and recruits alike.
Sports Gambling as Part of Fan Experience. Sports gambling has to start coming into play with fan experience considerations. With the rise of broader sports gambling capabilities, it's hard to believe that sports gambling will not begin to be part of the fan experience priority list in some capacity.
Leveraging Digital World in Fan Engagement & Fundraising. The college sports market is becoming more digital and embracing interactive technology. You see digital engagement on the rise to support fundraising or a capital campaign, too. Especially diehard fans, your top 10%-20% are very open to year-round digital engagement. The evolution of university and athletic department content platforms and how they communicate with fans is a big trend -- how can we keep good content and information flowing?
Access to University Marks in NIL & Making Athletics More Shareable. Whether you are planning a practice facility, a locker room, or whatever it may be, make sure there is something about it that's sharable or a place for content creation. I'm a huge believer that the world of university marks and NIL will merge quickly because you can't keep them separate. Certain schools have embraced the idea of the co-branded marketplace, and others have not. But the NIL marketplace is spilling into the physical space as well. Schools are investing in the facility experience for content creator spaces, especially at the highest levels, to ensure they stay there.