Jump to Content
In order to effectively recruit the right individuals, most companies find themselves at a barrier of one of two scenarios: they desperately need a refresh of their company culture or are not effectively communicating their vision with employees. When up against either of these problems, there are three main factors that consistently affect how your company is perceived:
Cohesive branding. Does every facet of your physical space bleed your company's brand? Do clients and employees walk in the door and immediately feel like they're part of your family? When speaking to branding, most assume that we're discussing social media presence, print materials or t-shirts at the company softball game. What many fail to consider is that branding through experience design allows employees to connect with an organization; it becomes more than wall graphics or logos and creates a fully-immersive, curated environment.
A clear core. Clarity is king. While a business model may be intricate and complex, the way we communicate with our employees should not be. As we begin to design these environmental experiences, we first focus on the key things we want to say—then how we want to say it. Strictly narrowing down on what we want employees to feel, believe and know from our experience helps us design with focus.
Walking the walk. We're good at saying what we want to do, but are we actually doing it? New recruits can see through smoke and mirrors, and it's become important to make sure that our message lines up with what we're doing. Millennials are attracted to companies that stand for something and follow through—if our experiences, messages, and actions line up, they'll see a future with our organization.
When Milk Does the Office Good
Dairy Farmers of America (DFA) wanted to visually showcase their brand story throughout their new corporate world headquarters located in Kansas City, Kansas. Ultimately, their new space needed to pay homage to the farmers and their history, while also sharing a vision for future growth. Partnering with lead architect HOK, the team at Dimensional Innovations designed and fabricated unique elements and signage within the visually stunning office, including a dramatic 29-foot-tall milk sculpture in the lobby that mirrors milk being poured into a glass.
The idea was all about the "Story of Milk." With milk tying everything together, white is a key color used throughout the space, with custom wall textures that feature casts of milk-related tools. One wall uses reclaimed wood from a former red barn in nearby Lawson, Missouri, giving authenticity to the colors and textures. There's a wall of acrylic bubbles to represent milk foam, and another that recalls grass, all in an effort to depict the farm-to-table journey that any dairy farmer would easily recognize.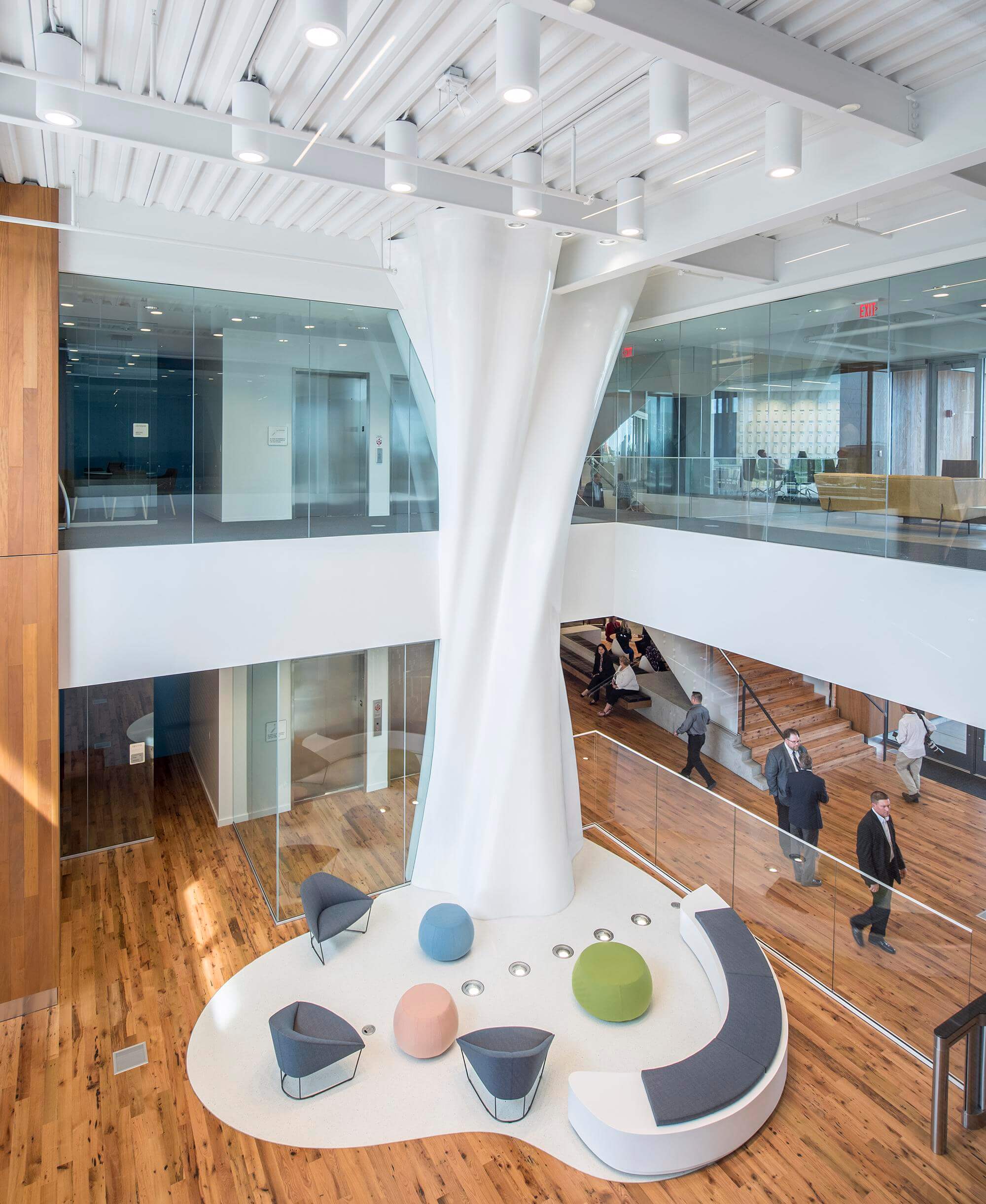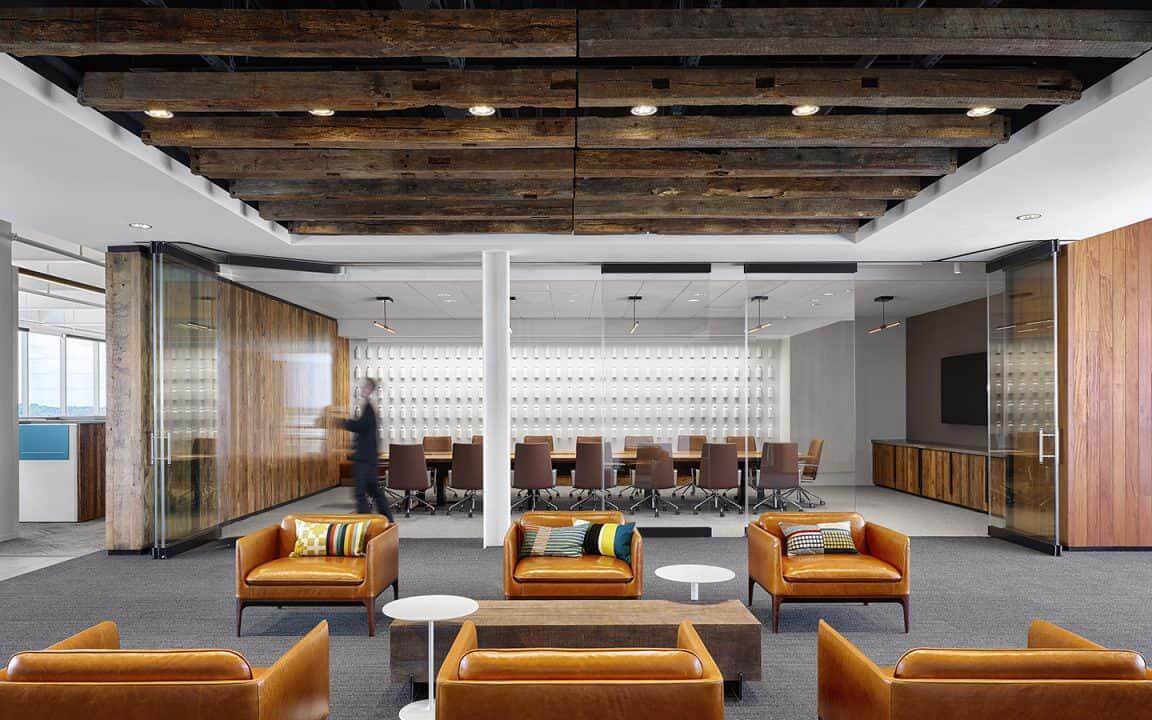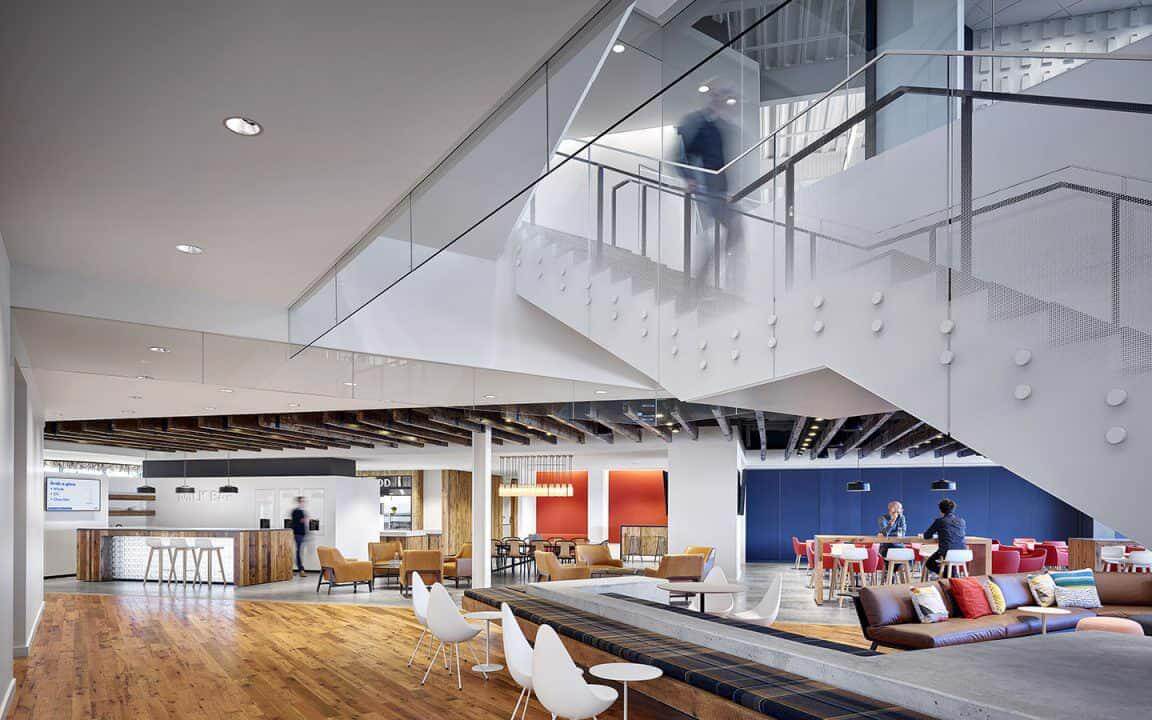 DFA's space connects people to place through the use of familiar textures, relatable images, and everyday objects that resonate with both employees and visitors either through personal experience, emotion, or memory. The "legibility" of the office can be found in the ability to see and find others, understanding the layout of the space, and the degree to which workspaces and furnishings convey their intended use.
The ultimate goal of these special features is to tell DFA's story and make a connection back to the farmers. Employees feel inspired and proud of their surrounding environment. Visitors are impressed by the overall space and surprised and delighted by the unexpected design moments.
The First Step
But let's talk more about you. Creating an experience in your office— whether at a specialized center, flagship office or an upcoming HQ renovation—can often be overwhelming at the start. When working with our partners, we start by asking the right questions to determine the best path toward success:
> What do we want to achieve? Employee experiences can accomplish a wide variety of goals. Encouraging employee collaboration, better disseminating your vision in the company, creating opportunities for employee de-stress or attracting new talent, are all potential outcomes of your project. Having a clear objective in mind from the very start will allow planning to begin in a way that is strategic, tailored and revenue-based. With the average worker spending 90,000 hours (10 years) at work, it makes sense that 51% of employers are improving their work spaces to enhance employee experience.
> What's our investment? There is no one right way to create an experience for your employees. From small investment projects, like updated signage and digital display enhancements, to large-scale projects, like art installations or workspace overhauls—determining what budget and time you can allocate to the project creates the best environment for determining a solution to your objective.
> What's been said before? One of the best resources in creating a tailored experience is going to the people that you'll be serving. Listening to your employees first often proves to be one of the most effective means of gathering research for your facility. These individuals can become your biggest assets and advocates in the process.
> What's in the neighborhood? Borrowed from our work in the professional sports industry, the concept of connecting our spaces to the neighborhoods they border has become an important facet of experiences, and organizations across the country are continually improving their approaches in developing hyper-targeted gathering spaces. In building areas that are authentically tied to their communities—through means of local art, culture, athletics, or industries—we make sure everyone feels right at home.
The Root of It All
In the midst of all this planning for your project, it's essential to remember and hold true to the reason you're designing: the employees. Your ultimate success comes when new talent is recruited and retained—when people talk about your space as one that inspires hard work, creativity and passion. One that is built to thrive.
THE DFA CORPORATE OFFICE WAS CREATED IN PARTNERSHIP WITH ARCHITECTS FROM HOK . IMAGES AND PHOTOS BY MICHAEL ROBINSON, COURTESY OF HOK.