Jump to Content
When a patient enters the doors of an infusion center for the first time, their universe seems to get a little bit smaller. They feel nervous as they begin a series of treatments that—though essential for their health—will affect their schooling, social life, their stamina and confidence.
As experience designers, our ultimate goal is to collaborate with healthcare professionals to create environments that think beyond their first appointment. We want each interaction, touchpoint and treatment to contribute to a patient's overall wellbeing: at the beginning, during and after treatment. If we're not paying attention to those details, our patients run a higher risk of carrying trauma beyond the treatment center.
More often than not, success comes in having smart conversations early, and with the right people in the room. Below are four of the top discussion points we bring to the table when we partner with hospitals for a new project:
#1: The space should be versatile and unique, just like the patients that visit.
When treating individuals with a broad range of backgrounds, ages and gender-identities, hospitals need to be prepared with experiences that can appeal to a diverse population. It's important to be aware of the patients that we serve, and design a space that fits their needs and feels comfortable.
In a recent medical study, doctors found that patients from low socioeconomic backgrounds were at risk of poor hospital-to-home transitions due to confusing or unrealistic discharge instructions, and felt a sense of powerlessness during their stay (1). We can design our spaces to overcome this issue by infusing educational, interactive experiences into the space, to help train and familiarize patients with their upcoming discharge and empower them to take control of their own situation.
Beyond economic status, this conversation also opens up the door to solutions that can all be addressed in smart space design—gender-neutral facilities, dual-language resources and community-rooted initiatives can all help each individual patient feel more comfortable and reduce long-term trauma.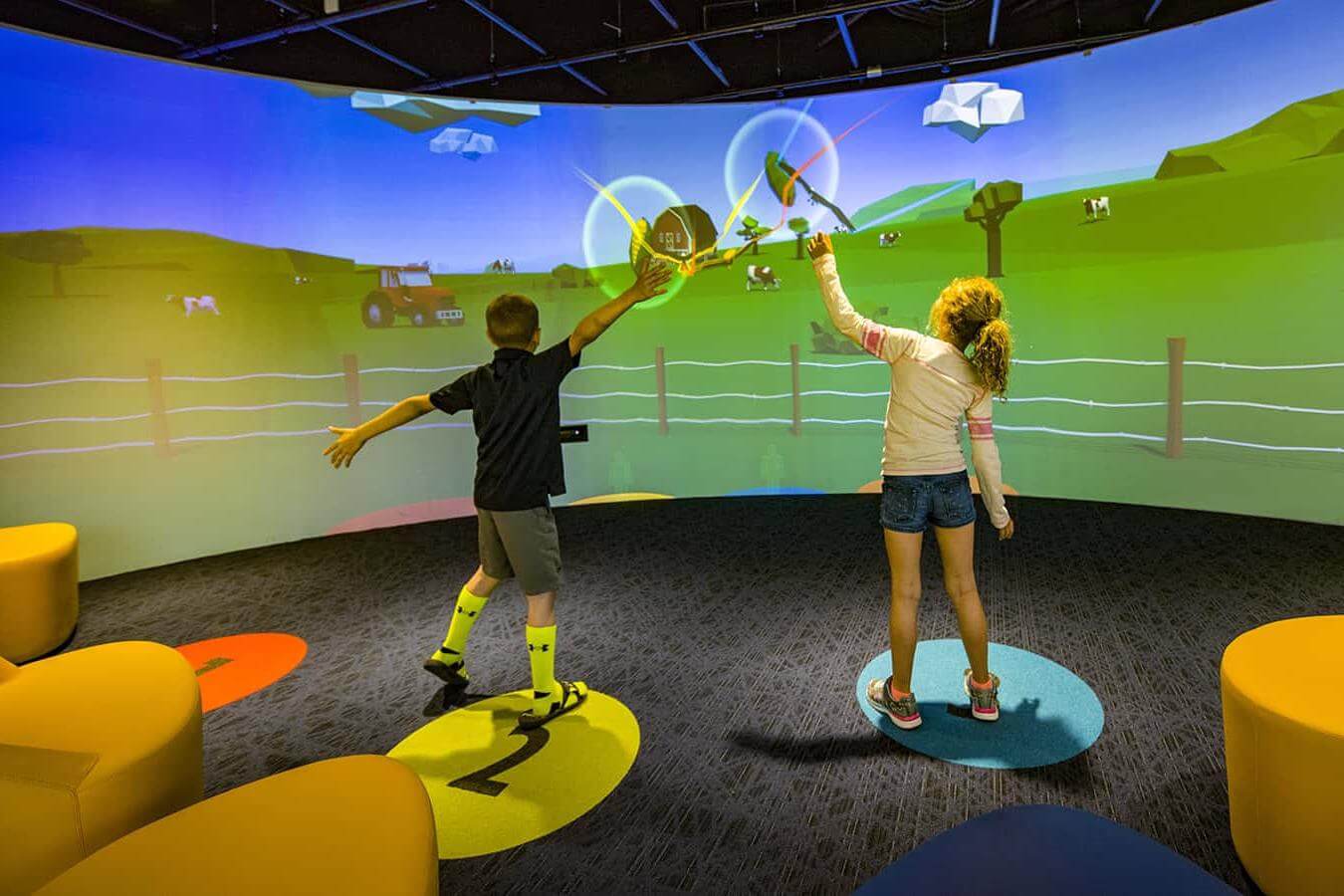 #2: Consider both the patients and their families.
Understanding that patients often have family members accompany them to treatments means that we have to think about who else is in the room. What is their experience like while they wait for a loved one to complete their treatment? What trauma might they experience during the stay? When it comes to a child, what are Mom and Dad worried about?
Understanding that the patient isn't the only one who may experience trauma after extended care forces designers to consider a broader range of capacity for the space. Providing comfortable seating, operating WiFi, treatment resources, desk work space and support resources can help alleviate stress or anxiety during the wait. This can help ensure that parents and support systems stay in place for the patient while they visit; we need to focus on a positive visit for all parties involved.
#3: Interaction is key.
While patients miss out on schooling, sports, activities and social groups, it's important that we design to invoke a sense of community and an opportunity to develop a new support and interaction system in their treatment environment. The best way we can create a safe space for our patients is quite literally, to create physical space. Designing areas that patients can engage with each other, technology or healthcare professionals can help facilitate a better transition from discharge as they go back to their normal routines.
At the Connecticut Children's Infusion Center, patients are surrounded by a breathtaking, outdoor-themed space and participate in the "Wilderverse" — an interactive game that allows users to access a website on a phone or tablet to create a custom avatar that explores a virtual outdoor world visible on multiple, curved digital OLED displays in the center of the treatment area.
The design incorporates nature settings, including a campfire, castle, waterfall, large flower pods, and a ship scene. Depending on how the patient is feeling, they can keep their curtain open to see the large displays in the center of the facility, or if they need more privacy, they can still view the experience on the monitor within their room.
This type of approach opens the door for an interactive experience, one that makes the infusion center feel special and unique. Patients can then interact with each other through the lens of the game, and share their creations with healthcare providers. But if they don't feel like a chat? They can still have an experience that passes the time and minimizes what could be a stressful environment.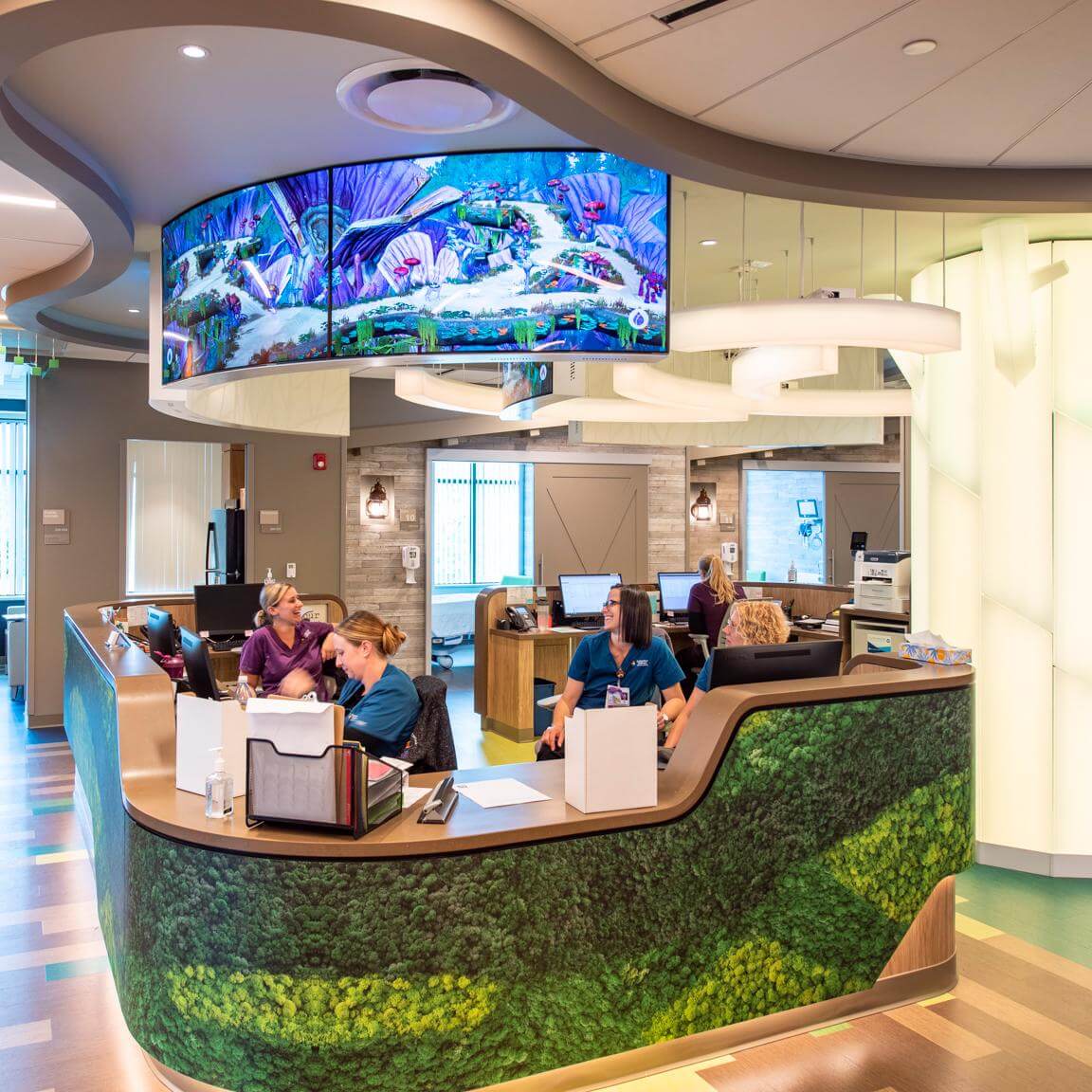 #4: Long-term results come with long-term thinking.
The experiences of your patients matter – and they matter just as much the day they started as the day they leave. The trauma that they often carry when leaving our facilities can be alleviated when we create spaces that foster emotional support, treatment education and unique, meaningful interactions. When we keep that end goal in sight from day one, we build their environment with a beginning, middle and end in mind. Experience design creates environments that can work in tandem with clinical practices to ensure this process is tailored for the specific patient populations they serve, and directly address their needs. Because at the end of the day, we do this for them: for their future, for their families and for a better road to healing.
CITATIONS: Kangovi, S., Barg, F. K., Carter, T., Levy, K., Sellman, J., Long, J. A., & Grande, D. (2014). Challenges faced by patients with low socioeconomic status during the post-hospital transition. Journal of general internal medicine, 29(2), 283–289. doi:10.1007/s11606-013-2571-5