Jump to Content
Kansas City, MO – October 4, 2023 - Dimensional Innovations (DI) is proud to announce that, in partnership with the University of Kansas, Helix Architecture + Design and McCownGordon Construction, it has developed the Jayhawk Welcome Center — a state-of-the-art student and alumni center designed to provide a unique, customized experience for prospective students and returning graduates through personalized activations, immersive digital touchpoints and leading technologies.
Visitors who step into the Jayhawk Welcome Center are provided a unique, one-of-a-kind experience curated specifically for them. Upon arrival, guests are greeted by a massive, two-story LED wall and provided a QR code. That code is utilized by the individual for the duration of the trip, showcasing the relevant interests, hobbies and career paths of both students and alum. From university traditions, notable alumni, extracurricular activities and more, the Jayhawk Welcome Center offers a glimpse into what life at the University of Kansas would look like.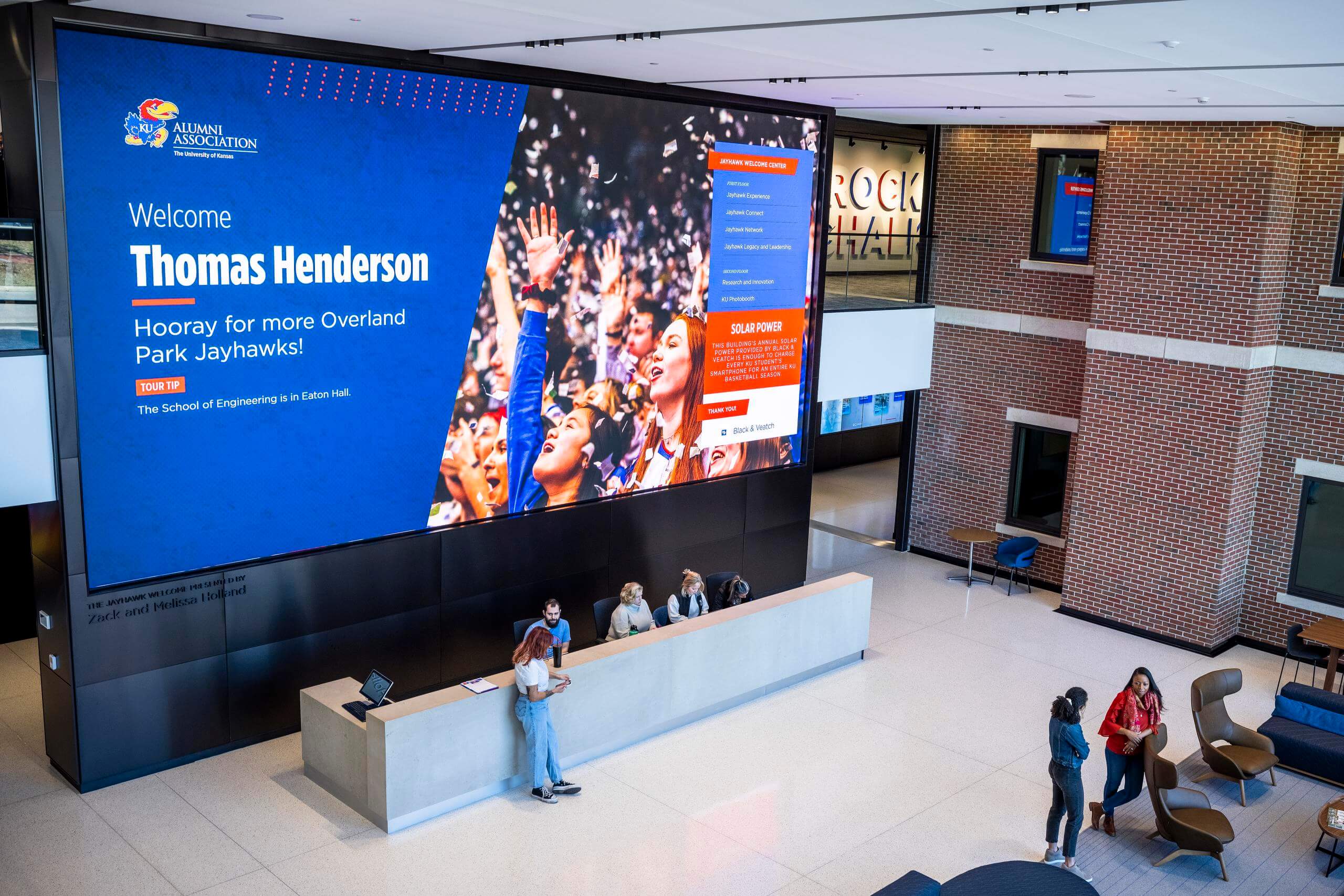 Photo opportunities, historical elements, engaging content and brand activations are placed throughout the center, providing touchpoints for employees and staff to educate and enlighten about the university. Learn more about the Jayhawk Welcome Center and the experience it offers by visiting Dimensional Innovations' website.
"The Jayhawk Welcome Center takes student recruitment and alumni engagement to a whole new level. Whether a future Jayhawk's first experience on campus or a proud alum returning to Lawrence, the Welcome Center offers a best-in-class experience to everyone who walks through the doors," said Tucker Trotter, CEO, Dimensional Innovations. "Personalized greetings, immersive visualization of what it means to be a Jayhawk, the history of KU and all those who walked down the hill — each element unites and connects like only the Crimson and Blue can."
"We built the Jayhawk Welcome Center to better position the KU Alumni Association, and to win the campus visit," said Heath Peterson, President KU Alumni Association. "We are working to not only recruit students, but future alumni. Growing the alumni base creates a more vibrant, impactful alumni association, athletics department, endowment, and a stronger university in the long run."