Jump to Content
With the rapid expansion of esports, industry leaders and organizations need to establish two key things for franchise success: validity and longevity. In the league, team and brand spaces, identifying and executing strategic developments under the goal of professionalization is vital, primarily because it leads to revenue — and revenue means you're here to stay. When esports entities understand how their assets convert to cash, they solidify their place in the competitive gaming universe, and open the door for future opportunities and growth.
However, with an entirely digital sport, we need to talk about how built space plays a role in this expansion. Physical structures, like venues or training facilities, are a manifestation of a team or league's brand, and attracts other organizations for partnership — which in turn leads to further audience reach, franchise expansion and income. The spaces we build for esports become an asset for the future – they prove that competitive gaming is here to stay.
Now, what exactly does that space look like? It's different for everyone. For now, we'll take a look at what building infrastructure looks like for teams, leagues and live events as esports continues to grow.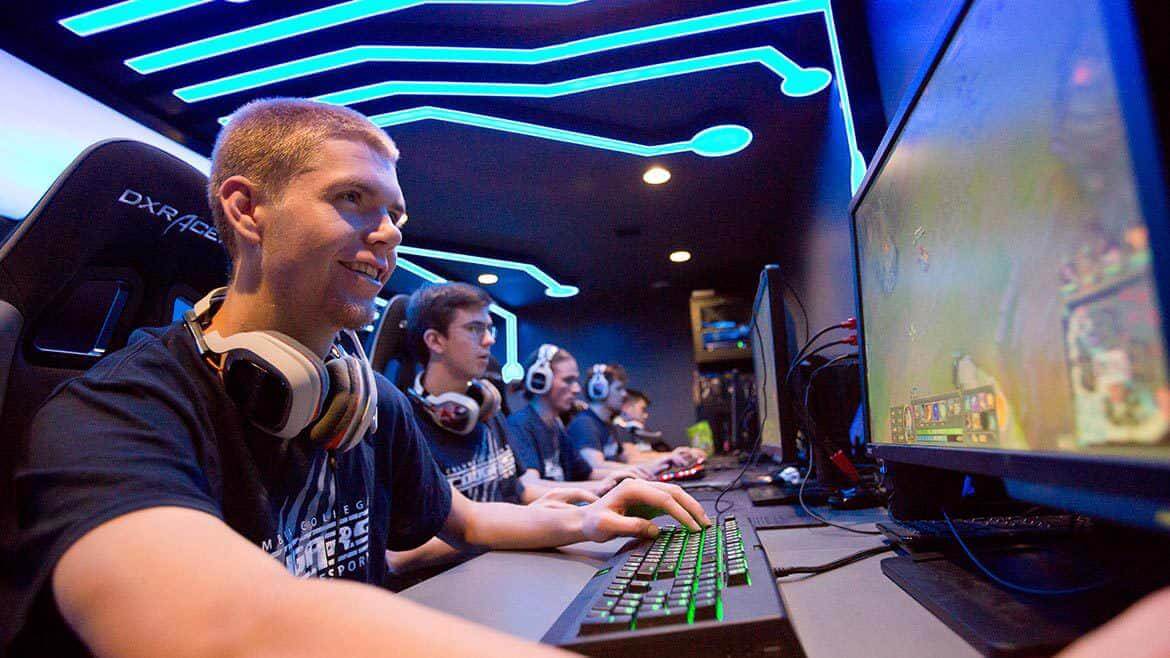 For the Teams
Creating branded, permanent assets for esports teams is an important part of establishing long-term franchises; one that survives despite unpredictable player trades, league changes, wins or losses. Not only do these spaces serve as a place for athletes to train and hone their ability, but it presents opportunities for smart localization strategies that help teams connect with the populations they represent. In fact, building team infrastructure really all does come down to creating connections:
Connecting with teammates. Esports athletes need facilities to train, just like we see in more traditional sports. For T-Wolves Gaming—NBA2k team under the Minnesota Timberwolves Franchise—creating a space that was not only accessible to fans, but operated as a state-of-the art facility was key. With training technology, locker rooms, conference and video replay space, leadership offices, player lounges and lobbies, the facility creates a holistic experience deserving of the champions that play inside. Coming off the heels of a NBA2K Championship win, the team's strength relies in their unique strategies and player unity with coaches and each other.

Connecting with community, both global and local. When a digital sport requires physical infrastructure, you have to establish strategies that connect with both the local (attending) and global (streaming) fanbases. Each type of audience has value, and when we leverage their fandom, we turn their team love into our team asset. Physical facilities provide a great opportunity to invite fans into our space while broadcasting content to digital audiences that are authentic, interesting and shareable. "At the end of the day, this is about attention. If people weren't talking or focused on video games and esports, no one would care," said Alex Divine, Account Director at Dimensional Innovations in an interview. "This is about creating a sustainable brand and growing where the attention is moving. And that is now toward gaming and the social interaction we can create with these physical spaces."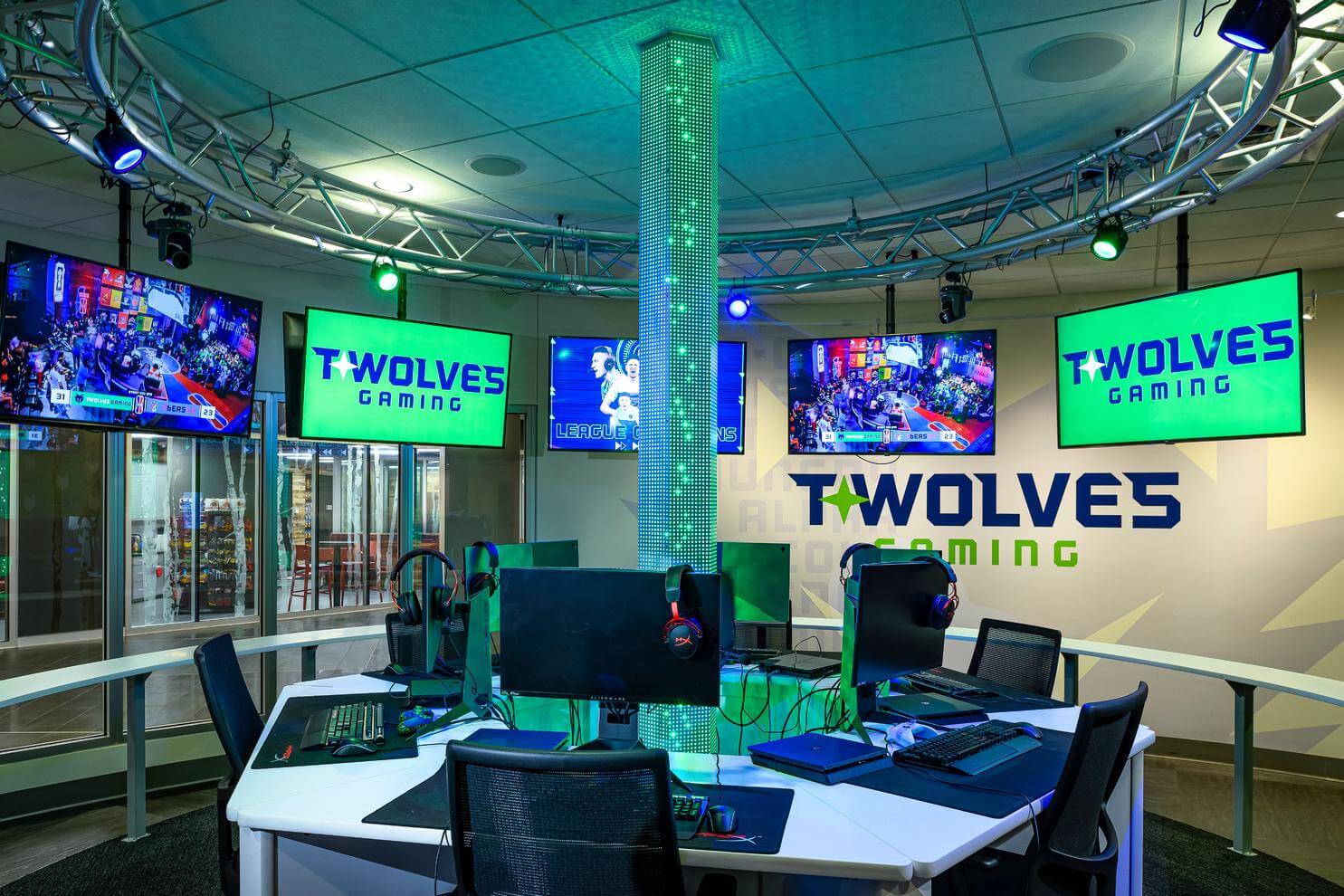 For the Leagues
When we think about the system that supports esports, we often go straight to the players and the games themselves—but rarely focus on the brilliant teams behind the technology who animate characters, create storylines and push the future of game development. For entertainment and game studios, having an office space that attracts talent and supports innovation is critical to growth. And while we're only beginning to talk about what these spaces could become, we can take nods from other company giants on how to set ourselves up for success.
Your space can convey your story and vision. Intentional design, unique branded elements and experience-focused environments will help support employees, impress talent, connect with the community, challenge ideas and increase innovation. Your space can share your game or organization's story; visitors will be able to experience your work beyond streaming.
For the Fans
Live events are where brands and fans come to shine. Between all the intricate cosplays and team gear, our job is to create physical environments for fans that match their energy and then successfully share that same environment with a digital audience. Understanding that the IRL competition needs to live on a streaming platforms helps us shape how we create and retrofit arenas to accommodate for this new style of viewership. As experience designers, it means from day one we're taking into account broadcast needs as we combine technology and space design to create a physical environment.
It's also important to note that a large part of live event and team success comes in how we integrate sponsors authentically into esports, whether through strategic experiential activations or branded design. In fact, esports business expansion hinges on brands to make leagues and teams sustainable—they plus-up the entire way we approach the sport. Part of our goal is to find scalable tactics that brands can implement to connect with fans in a way that makes sense to their offering or service. In the built space, that can range anywhere from social pop-up spaces or experiences (museums, games or exclusive events) that create a serious sense of fandom from the individuals that visit. We can then put success metrics against these elements and determine the value of the investment of the brand.
And if you're not sure if a brand is the right fit for an esport team, live event or league? The best advice we can give is to do your research. Brand partnerships only work when we find a way to combine an esport asset with a scalable solution to help validate the brand's decision to invest. If we know what moves the needle for them, we can tailor our solution to help both parties.