Jump to Content
The workplace has significantly changed over the last two years. Companies, particularly in corporate offices, are questioning the design and purpose of these spaces. Personnel in facilities, HR, IT, marketing, and sales have been consuming content and attending webinars on topics such as "the future of work," "how to create equitable experiences for remote workers," and "do employees really need to come to an office?" Not surprisingly, architects, AV integrators, and experience design and build firms like Dimensional Innovations have been very busy helping clients rethink and redesign their investments in corporate real estate.
Office Evolution
The role of the office has evolved gradually over the last 150 years. Initially, offices were directly connected to the production floor to provide management of the workforce and the flow of goods. As companies grew, the office became disconnected from the shop floor, and the focus shifted to information management, typically on large systems only available on-site. Office employees needed to be physically present to perform their function, just as they did in the factory.
Despite advances in technology that eliminated the need for proximity, most employees were still expected to show up daily to an office pre-pandemic, if only to signal their commitment to the company, enhance collaboration, and respect a multi-layered office management hierarchy.
Today we're living through the next great evolution of the office—one that will be centered firmly on experience. With computers as the means of production for most workers, many companies have seen productivity maintained (or even increased) during this two-year test of remote work. Despite this success, there's a deep sense across clients that offices are still needed to provide the human and social connectivity required to foster collaboration and build culture.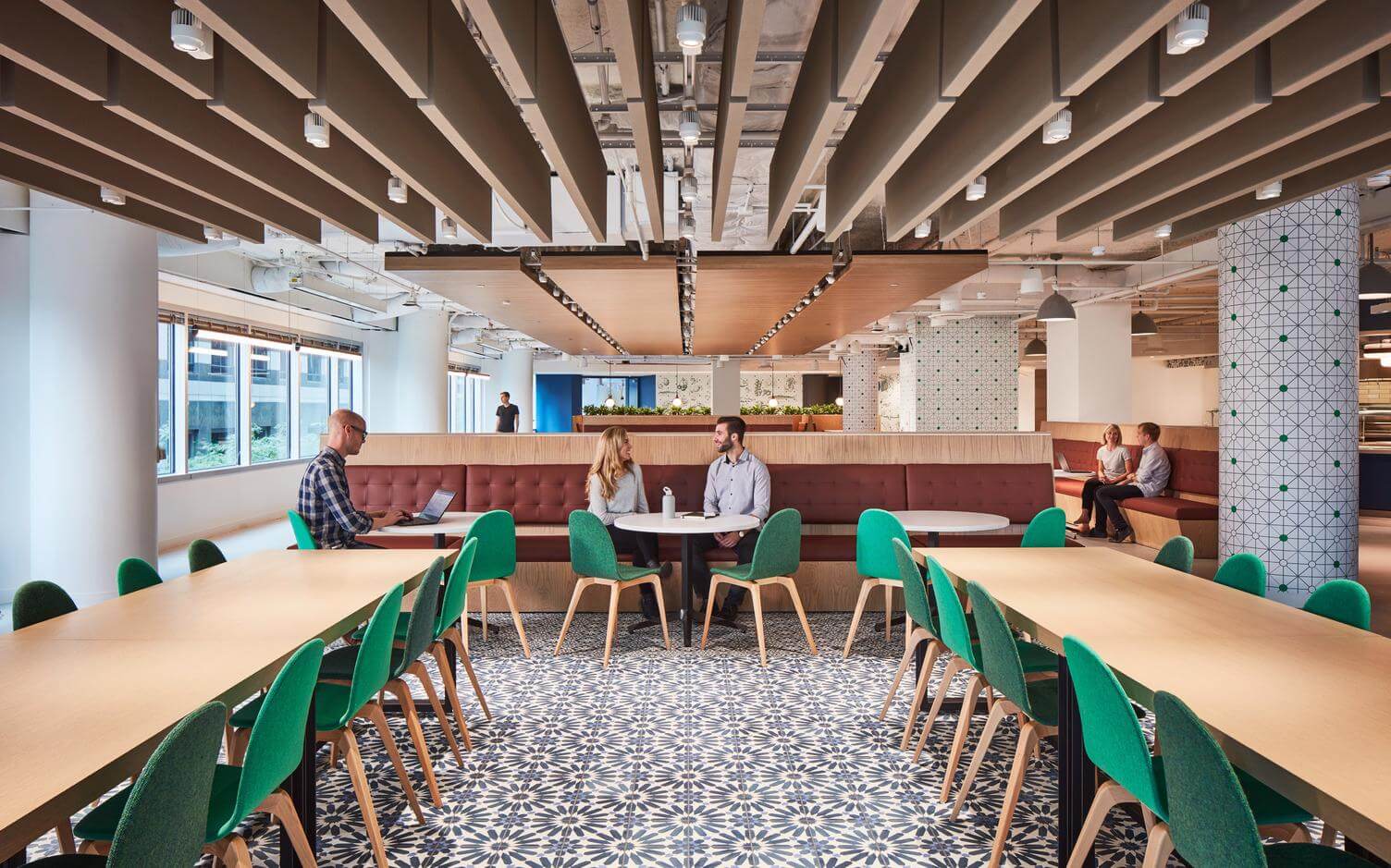 Spaces also need to be flexible and adaptable for new ways of working. With a large number of employees adopting a hybrid work approach, companies want to create environments and experiences that inspire and drive collaboration and communication with employees, partners, and clients—while also being responsive to the changing needs of modern work.
Branded Office Environments
In a very competitive labor market, offering a differentiated office environment can help attract and retain top talent. Showcasing a company's history, impact, and vision through brand storytelling can help connect current and future employees to the brand's mission, allowing them to see themselves as essential participants in future growth.
Casey's headquarters, located in Ankeny, Iowa, is a prime example of the pride and unity of an immersive brand design experience. After an updated brand and logo (created by Interbrand), DI was tasked with bringing Casey's new story to life in their HQ. This was done by:
Showcasing the community aesthetic at the heart of Casey's mission.
Uniquely displaying the names of the communities they serve using photo and textured wall installations.
Featuring 280 employee spotlights, ensuring employees know just how central they are to the very foundation of the organization.
Experience Centers
Despite increased remote work, we saw continued client investment in experience centers. As a member and sponsor of the Association of Briefing Program Managers, Dimensional Innovations has been at the forefront of experience center design, build, technology, and storytelling.
This year we launched new centers, experiences, and content for clients in the technology, healthcare, and financial services industries and have seen an expansion in the traditional role of these programs. Audiences have grown beyond the largest clients to include partners, governments, new employees, and even product development teams. Experiences have become more immersive, perhaps taking a cue from the growth in immersive entertainment to envelop participants in semi-real world environments. Content is always king, and sophisticated programs are diving deep into storytelling to share their product benefits and convey their broader company values and societal impact.
Communal Space
The rise of at least part-time remote work has led many companies to expand office locations beyond large corporate HQs in New York or Silicon Valley to footprints in cities like Charlotte, Atlanta, Austin, Phoenix, and our beloved Kansas City. Office developers around the country are creating live-work-play environments that incorporate amenities from the surrounding community. These mixed-use properties provide the flexibility that workers seek by anchoring the office in a vibrant area for a better work-life balance.
DI integrates insights from our work across retail, culture, sports, entertainment, and corporate offices to help design (or redesign) mixed-use spaces for maximum experience impact. Recently, we created and installed custom 3D-printed furniture in a large urban park inside a Minneapolis office tower. Working with architect Perkins&Will and industrial designer Jonathan Olivares, the furniture was inspired by the form of river rocks and provided an upgrade to the park so it could better serve the public and local tenants.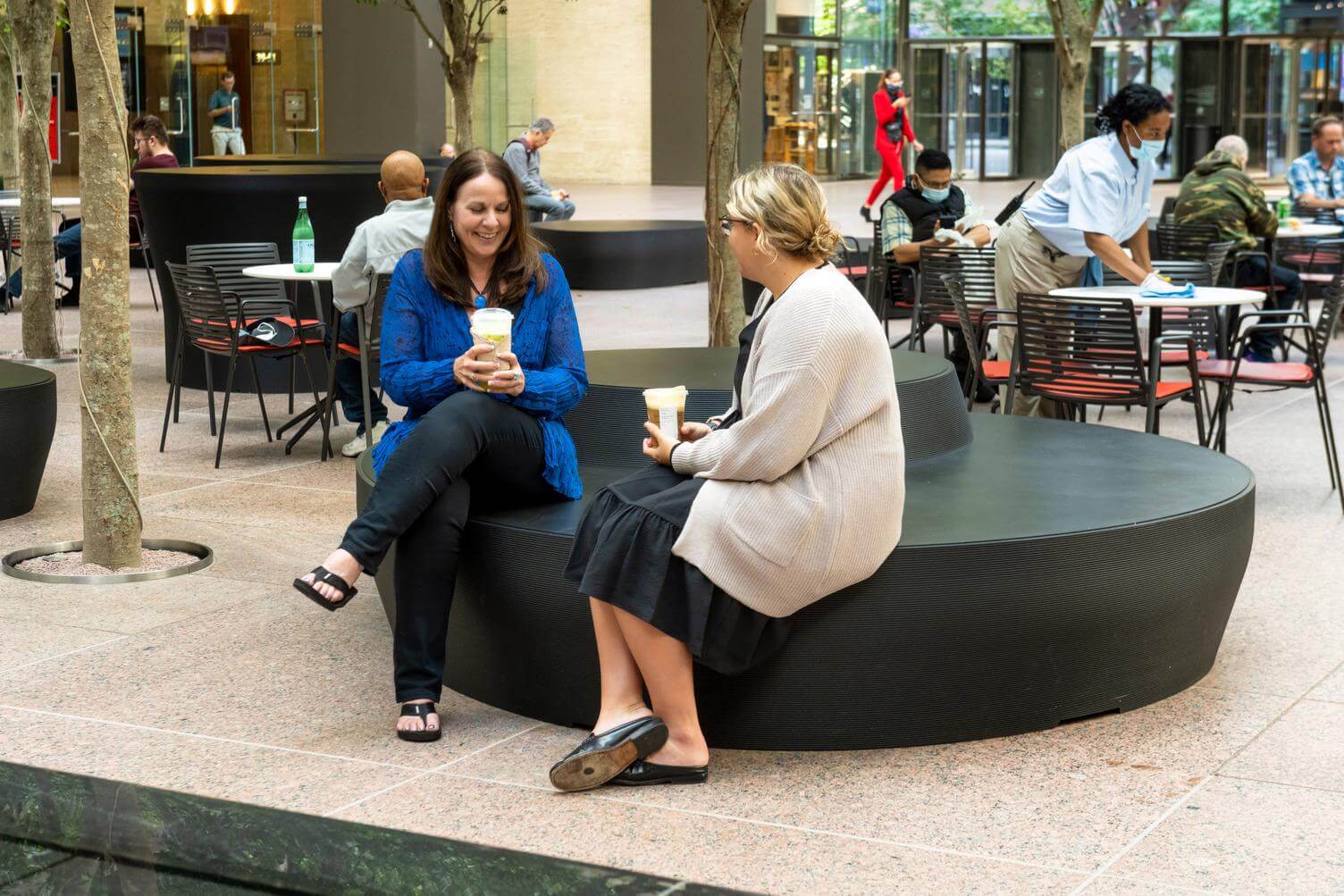 Looking Ahead
"On the road again." We're hopeful to see a continued return to live corporate events in 2022 (obviously subject to our public health environment). While virtual events have been a successful surprise and are likely to stay in some form for the long-term, there is evident pent-up demand from professionals and consumers alike for in-person trade shows, conferences, and brand-sponsored events.
Personalized journeys: Learning from consumer experience trends over the last decade, we expect more companies to explore data-driven, personalized employee journeys next year. Hybrid work isn't really hybrid if employees have to reset their work environments every time they switch between remote and in the office. With "hoteling" and "hot desk" office setups on the rise, we expect companies will invest in technology, content, and experience design to make the home-to-corporate-office transition more seamless, connected, useful, and personalized.
Meta-versed: There's a ton of hype around all things "metaverse" these days, but connecting our physical and digital environments has been DI's mission for almost 30 years. With all the change happening in corporate workplaces, we expect continued experimentation, prototyping, and testing of new experience designs across industries.