Jump to Content
In the post-pandemic construction landscape, the commitment to embarking on a hefty stadium or arena renovation or new build has evolved. From a cost perspective, there's an increased pressure to stretch your dollar further while from a design and use perspective, major facilities are now thought of as anchors or destinations with multiple uses for various constituents – athletics, campus and community. Additionally, collegiate stadiums and arenas are increasingly being built in partnership with outside operators, who then operate the facility with an eye to incorporating events outside traditional basketball tips or football matchups. Let's dive in.
The Experts:
Eric Buckels – Associate Account Director for Professional and Collegiate Sports at DI
Greg Brown – Managing Principal, Sports Design Studio at AECOM
Erik Johannes – Business Development Executive at Mortenson
What's a recent stadium or arena project your firm successfully completed? What were the key factors that contributed to that success?
Eric Buckels (DI): For new build arenas on the college side of things, we recently completed Ed Robson Arena at Colorado College and The Martire Family Arena at Sacred Heart University. We also help with game day experience enhancements such as the Jack Trice Stadium North End project at Iowa State. On these projects, DI helps to tell the story of their programs to "wow" recruits and elevate the visitor experience. DI led the donor recognition, experiential graphics and branding for these projects.
On the professional side of things we built a 93-ft tall 3-D printed Torch inside Allegiant Stadium alongside Mortenson and we are currently leading the sponsorship signage and activation design, tech integration and build for Intuit Dome in partnership with AECOM. We are also part of the branding and sponsorship activation team for the first women-only soccer stadium (CPKC Stadium) for the KC Current.
The core element DI is adding to all of these projects is memorable storytelling and branding. DI adds the feel, the 'wow' and the presence of the sports to the foreground of the visitor experience.
Greg Brown (AECOM): At Baylor we're doing multiple projects— the highest profile is Foster Pavilion, the new basketball arena and development center. One of the things that has made that successful is a commitment to embracing what makes their institution, their athletic department, even the site unique. At Baylor what that meant was embracing a capacity in the arena that was right for Baylor; [Saying] we're going to create a capacity, 7,000 up to 7,500 for basketball that's right for our program and we're going to create demand and make sure there's not a bad seat in the house and make sure this is an awesome environment to compete and watch basketball in.
Another thing at Baylor that they've done a really great job of that makes their project unique is that it's taking advantage of the city of Waco. … [there's] really an intentional focus on embracing the Brazos [River] and organizing new investment along that river… something that's a defining characteristic of Waco and their university, to the point where the entire practice building for both basketball programs is going to be organized around a little river marina. Think about a football Saturday that coaches are using for basketball recruiting – they're able to have those recruits over at the facility, pop out onto the pontoon boat, float down the river to the football game and dock there, so just those little details, thinking about an experience that can be "uniquely Baylor." I think the best success stories are the places that really embrace what makes them different.
Erik Johannes (Mortenson): What's unique about [Arizona State's Mullett Arena was that it was] a develop, design, build, operate, maintain structure, so a developer-led structure, and because of that we are able to place really hard walls around the projects' scope. So if changes were desired by a specific university department after the building agreement was in place, they'd have to explain to the university CFO why that change was needed and how they'd pay for it and that thus resulted in very little scope creep or additions to the project… that project was successfully completed on time, on budget, and that was a big part of why that was accomplished that way.
What challenges specific to a stadium or arena construction project should an Athletics Director keep in mind?
Johannes (Mortenson): Communication is vital. The biggest thing is communicating the project benefits to all stakeholders. Your donors and your premium seat holders are going to benefit from new premium spaces, those types of new amenities, but you really need to make sure you're communicating the other benefits to the rest of your ticket holders and fans: expanded concourses, additional points of sales, more bathrooms, etc. Ensure that you're keeping some of the focus and some of the budget allocated to your everyday fans.
Buckels (DI): Gone are the days of "show up for the game, watch the entire game, and go home no matter what," so all visitors— general admission through the premium suites— are much more savvy to what they want their experience to be. They want it to be customized, they want it to be tailored to their interests, they want a great game but they also want before, during, and after experiences. Making sure you understand your fan base, particularly your premium fanbase is becoming a growing challenge.
When we're thinking about storytelling and fan experience from a branding standpoint, getting the story that you want to tell right early on and making sure it's cohesively told throughout the entire venue is extremely important. A lot of what we help with early on is making sure those stakeholders have a voice but an appropriate voice— if the university side is going to have a voice, if the athletic department is going to have a voice, even outside sponsors or large donors, making sure that we understand the overarching goals before we jump into designing cool spaces or sponsorship activations is something Athletic Directors need to keep in mind.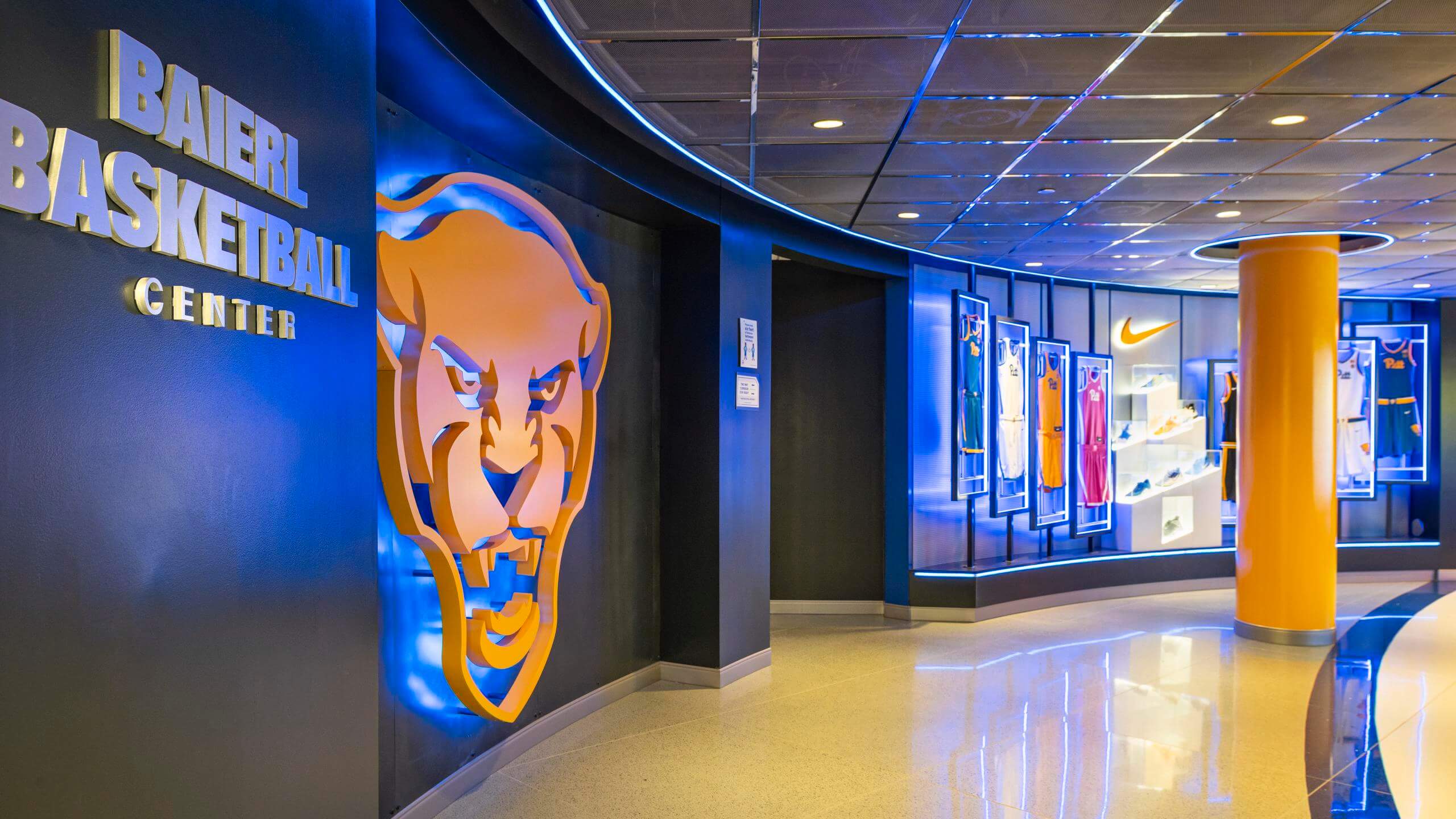 What technology and innovation trends are currently impacting stadium and arena construction?
Buckels (DI): Our focus on technology is within the context of the fan experience. Our role in creating donor recognition pieces, fan spaces, photo ops, branding, Hall of Fame spaces and more has been enhanced by the incorporation of immersive technology. Fans want a more personalized, curated experience in venue. DI incorporates experiential technology to make the stadium feel more about the event of the day— concert, game, conference, etc— and then we allow each fan who interacts with an experience to go on their own journey custom to their interests. Over the coming years, we believe that more components of a fan's day at a stadium will feel premium and tailored towards their specific interest. Technology is a key driver in making that happen.
Brown (AECOM): The biggest one continues to be advancement in food and beverage service – the spectrum between belly-up concessions to completely frictionless, just walk out style markets that are cashless; there's a lot of room in between those two and different clients are going to land in different spots on that spectrum but I think that continues to be where we see a lot of advancement. Some of our larger scale projects are almost serving as the beta testing for that deployment in markets where maybe there's a little more investment happening and then the successes or the failures of that beta testing trickling down to the collegiate spaces. Things like fan creature comforts— all of a sudden it's completely possible or accessible or at some point will not be cost prohibitive to have phone chargers at every seat or to be able to have better climate controls associated with your seating position within a seating bowl.
Johannes (Mortenson): One is connectivity in the venue. As more and more venues move to digital tickets, cashless payments, ordering ahead on an app and then going to pick it up, not having an actual belly-up counter, what's vital for that to work is having connectivity in the venue. The second big one is video boards. In the last year, we've completed a couple of projects, more on the pro side, where they more than doubled the size of their scoreboard and you're seeing that across the industry, where a lot more funding is being placed on these massive video boards or ribbon boards throughout the venue. A big part of that is fan experience— more reasons to get them off their couch and into the venue.
How do you incorporate flexible and multi-purpose design elements to ensure that stadiums and arenas can host a variety of events beyond sports, such as concerts, conferences, and community gatherings?
Buckels (DI): In terms of the trends around the funding model and looking to use these venues for more than eight football games a year, 20 or so basketball games a year is certainly top of mind with the scope of work we're focused; when we think about storytelling, branding and donor recognition or sponsorship activations in these stadiums or arenas, we're seeing athletics directors and universities wanting to use that for more than just athletics. [Venues are] able to be used for private events during the week as maybe a conference center, they're able to be used and activated over the summer months for concerts, etc, so when we're sitting down in our early discovery sessions for the branding, storytelling, sponsorship activation, we're considering much more than just the story of athletics. We're wanting to tell a holistic story about the university and athletics and make sure it's flexible based on the event of the day.
Brown (AECOM): Inside the building is almost the easy part in some ways… the magic is probably in what is happening outside the building that then drive[s] traffic or make[s] fans want to come for what's happening pre-game or post-game as much as for what they're coming to see between the two whistles or before the horn sounds. I think inside the building is somewhat straightforward and not easy but not as creative or in some ways not as important to some of the planning that goes on outside of the building or creating a framework or canvas for what can be or legacy plan for what can be possible in the future.
In what capacity can your team help with the fundraising efforts for these projects? How much planning can typically take place before a lead gift is solicited?
Brown (AECOM): We're really good at doing renderings, we're good at doing microsites to build momentum or support or enthusiasm for a project. But we have plenty of examples in the past where we have direct donor engagement— whether that's for a small group of donors or whether it's the lead gift that you're trying to lock down. Let your donor sit at the table with the design team, have a conversation and kind of talk about the vision of the project and make sure that lead donor feels ownership or equity in that decision or those values or that vision from Day One.
Johannes (Mortenson): Every project we build, we are virtually building it first. That helps from a construction logistics standpoint… but since we're already building it out virtually, an easy next step is to make virtual environments for the universities to use. Arizona State Hockey… we created a virtual reality experience in a headset that players could use so that when coaches are selling the dream to new recruits… you want to imagine what it's going to look like when you're a junior or senior and you actually play in there. Recruits would put the headset on and look around the project site and see what it's going to look like. The same thing could be used from a sales standpoint. When we built Truist Park for the Atlanta Braves, they contracted with us also to use those virtual models to sell their premium seating.
Buckels (DI): In terms of one-off, specialty areas where they're trying to spur a brand or donor to step up, like a Hall of Fame or large-scale activation or wow moment, in that perspective we can help design ahead of time, interface with donors and really get them excited and invested in their portion of the project. Similarly with donor recognition experiences, when they want to do something above and beyond simple signage, simple naming rights, getting DI involved early for the donor or brand to understand what their space will look like in the new or renovated stadium or arena is a nice space for DI to help.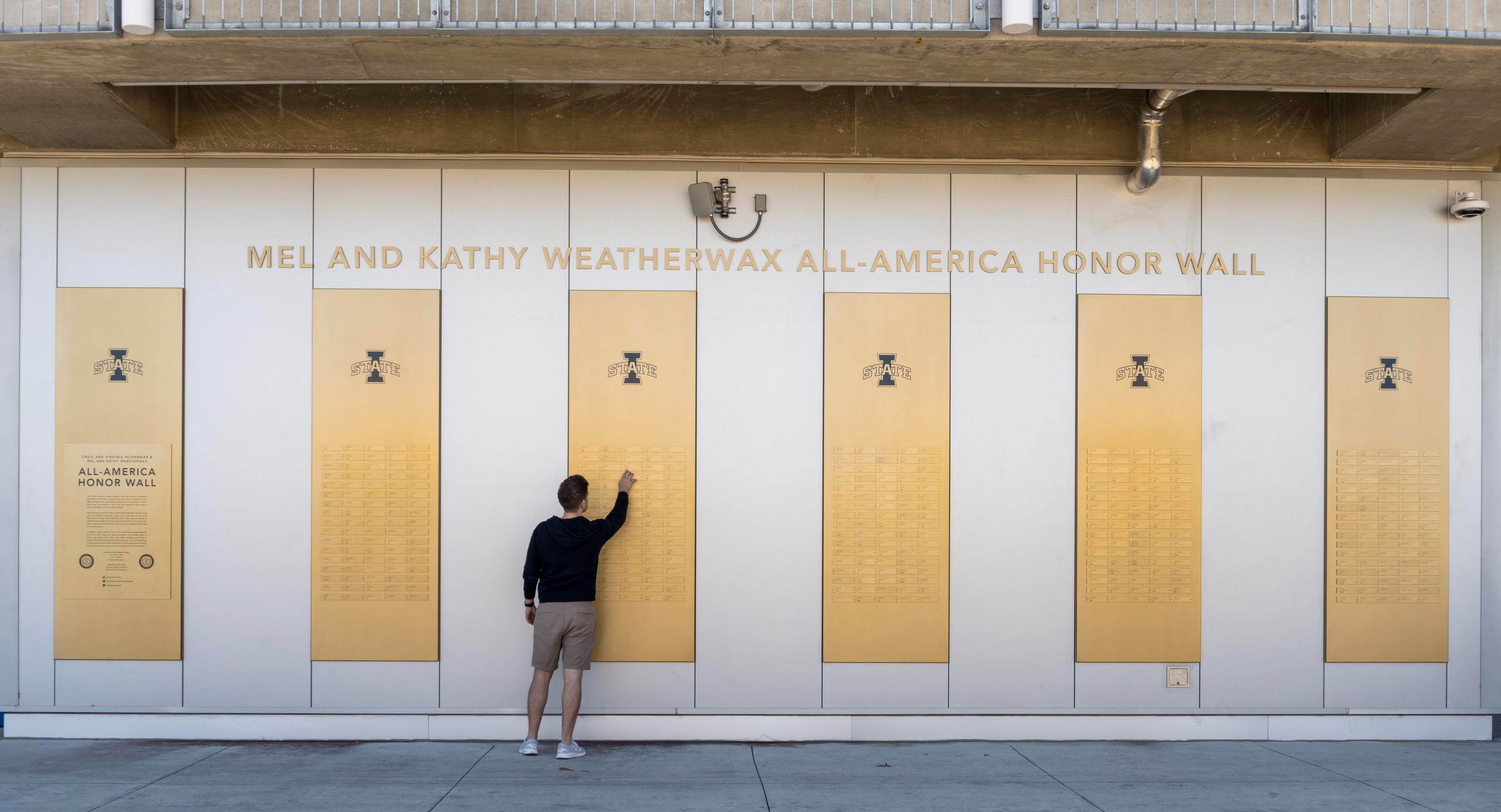 What advice do you have for ADs embarking on their next big facilities project?
Johannes (Mortenson): Consider some alternate sources of funding or partnerships to take a little less load off your fundraising teams and your external relations folks. Secondly, you want to hire all your consultants— builder, designer, Dimensional Innovations consultants— as early as possible so that you have scope and budget alignment because the last thing you want to do is sell a project to your board or university president and all of a sudden what was a $200M project has become a $400M project because you didn't have everyone on board early enough to help set the right expectations and align scope and budget.
Brown (AECOM): Be authentic to your institution. No one knows your goals, your financial models, your fans, your coaches, no one knows you better than you. Learn from what else is happening in the market, learn from what other people are doing, go on your benchmarking trips, do your facilities tours but be bold, be yourself and look for a way to create a project or create experiences that are unique to your institution.
Buckels (DI): For major capital projects like these, it's easy to continue to scoot the experiential spaces, the wow moments, to the very end or as a phase two item but I would encourage athletic directors to remember that sometimes those are the most visceral, most photographed elements of a space, so make sure to budget and commit to the storytelling and branding as part of your project.