Jump to Content
In 2021, the COVID-19 pandemic remained front and center for every healthcare organization. As a result, there were two common challenges that we heard from both current and prospective clients:
The need to create experiences that can still foster community and provide positive distraction—while incorporating social distancing and mindfulness around infection control.
A reduction in resources (budget, staff, time, etc.) but a desire to still make an impact on the patient experience.
With social distancing requirements, lobbies and waiting rooms either closed or experienced reduced capacities and elevated attention to cleaning and sanitization protocols, we heard time and time again that the "experience" offered to patients and families was not ideal. Ask anyone, and they'll tell you that waiting—especially when in a healthcare environment—has its challenges. This is especially true for young kiddos.
Pre-COVID, most waiting spaces in pediatric facilities offered at least some form of basic entertainment. Things like fish tanks, books, magazines, building blocks, puzzles, Xboxes and Playstations, to name a few. Although these forms of entertainment could be considered "basic," they do provide engagement and positive distraction. Unfortunately, during the pandemic, we've seen organizations implement rigorous protocols to minimize close physical contact and physical touch to prevent the spread of germs. This has resulted in the removal of most forms of entertainment from waiting spaces.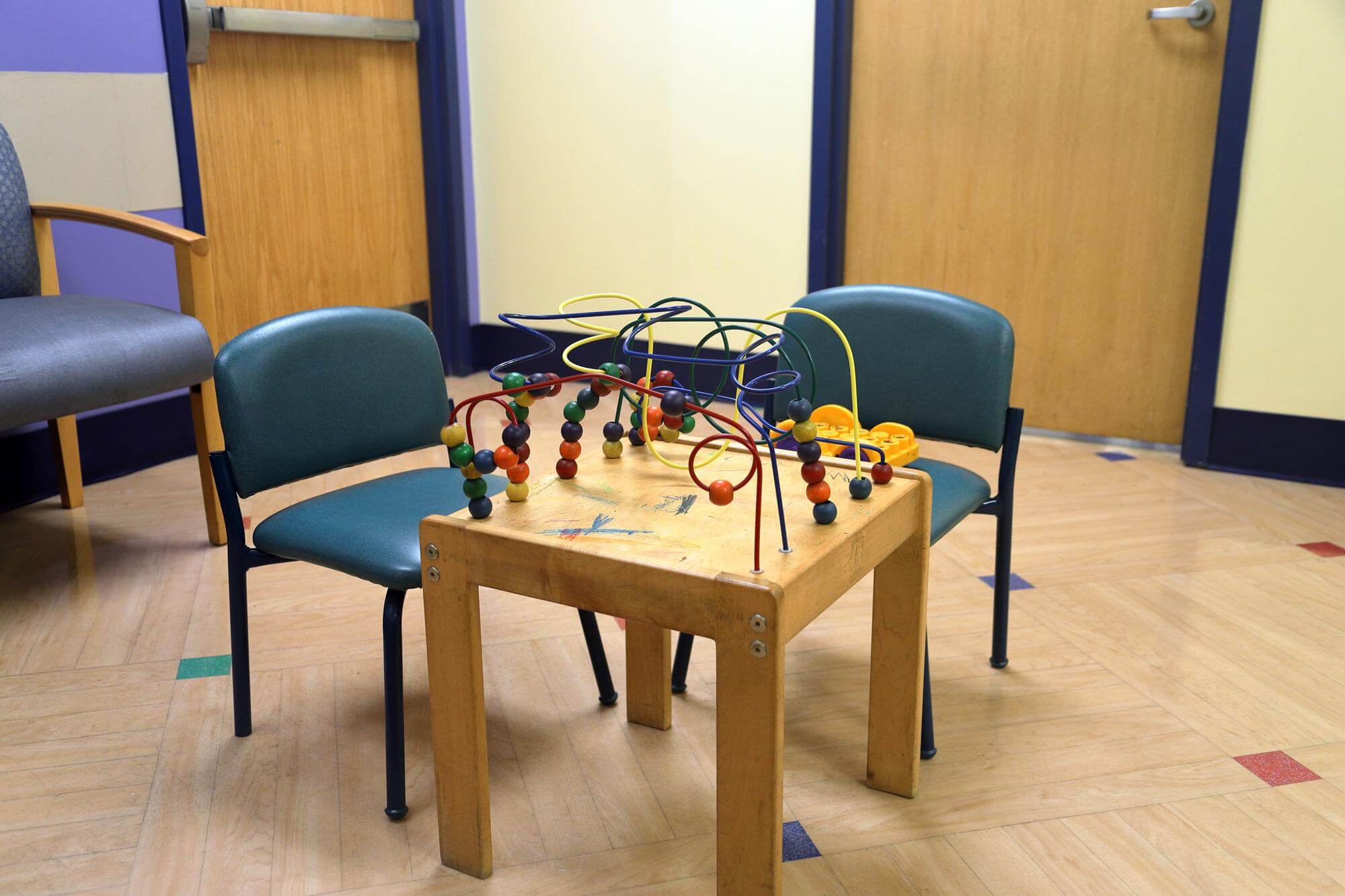 Fast forward to today. With the prominence of vaccines and an increased comfort level in the efficacy of cleaning protocols, organizations are again interested in bringing play experiences back to their waiting rooms, child life spaces and other community gathering areas—but with a need to re-imagine what these experiences look like. In short, we found ourselves being asked the question: "How do we create experiences that can foster community and provide a positive distraction while incorporating social distancing and mindfulness around infection control?"
Our team at Dimensional Innovations took comfort knowing that we had solved similar challenges long before the pandemic through projects like the University of Iowa Stead Family Children's Hospital and Cleveland Clinic Children's Hospital. The learnings and experiences we gained from these projects provided us with a successful playbook on how we can help our clients tackle this new challenge at hand. By using Gesture Control and the concept of "Bring Your Own Device," we've been able to help clients think outside the norm, conceptualize breakthrough ideas and implement them in healthcare facilities across the country.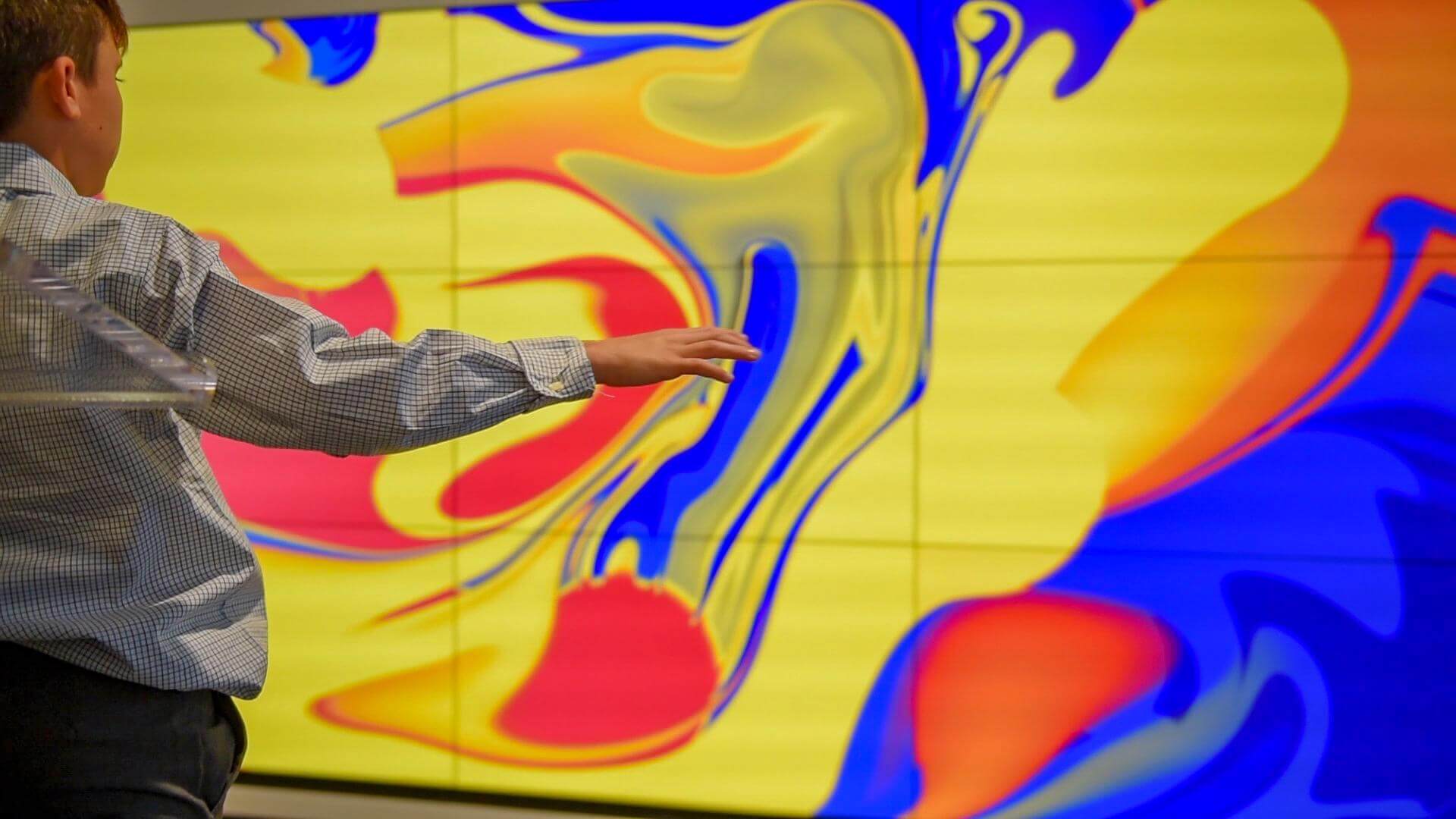 A fantastic example of blending Gesture-Based interactions with Bring Your Own Device is a project we are in the process of delivering for our amazing partner, Carilion Clinic. This past Fall, they opened their new Carilion Children's Tanglewood Center in Roanoke, VA. DI was approached to help them dream up a positive distraction experience for their primary waiting area. Our Discovery and Conceptual design process lead us to the big idea: Social Butterflies. With this concept, patients have the opportunity to use their own mobile device or a kiosk to create a personalized butterfly. Once created, they can "release" it onto a video wall where it then joins a kaleidoscope of other computer-generated butterflies by other patients. Users can also interact with the wall by standing in designated areas that trigger the butterflies to join together and form shapes.
The key design principles behind Social Butterflies are for it to be calming, accessible, unexpected, fun and provide a form of control and comfort for all who engage. Additionally, it's meant to foster community and offer multiple forms of engagement while adhering to the latest pandemic guidelines.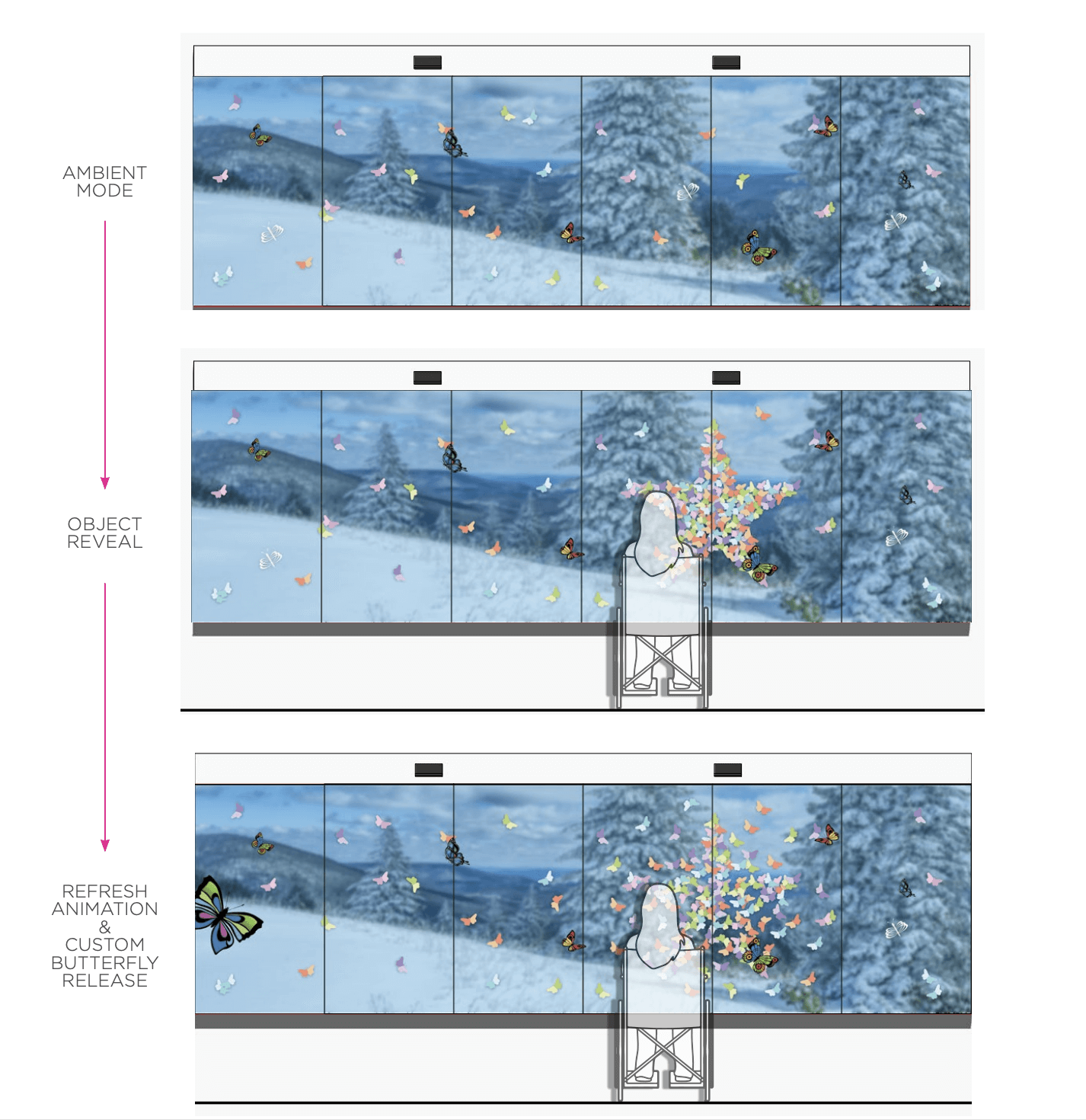 Another unfortunate strain on many industries (particularly healthcare) has been a shortage of resources, including budgets, staff and time. While many organizations told us that providing an impactful patient experience was something they wanted to do, the reality is that they had limited resources to do so. Thus, DI Product Solutions were born.
With an imposing real-world problem that was constantly evolving with new information, our team saw an opportunity for innovative solutions—two, in fact: Interactive Coloring Wall and CreatureVerse. The foundation of these solutions leverages existing technology, but on top of that foundation, we've left room to add layers of customization and expansion to deliver the same "wow" factor accustomed to DI projects.
The interactive coloring wall is an entirely touchless, digital experience that uses gesture tracking technology so that users never come in contact with any surfaces. The technology identifies and tracks the users' hands as they move them across the scene, filling the outline with color. Unlike touchscreens, this technology creates a more hygienic environment with screens that do not need to be cleaned as frequently. Multiple users can "color" at the same time while standing at intervals identified on the ground. Users have the opportunity to select from a multitude of background options. And the environment(s) is customizable to reflect the location's surroundings (e.g. Colorado—mountains, elk, moose, etc.) or represent the client's brand story.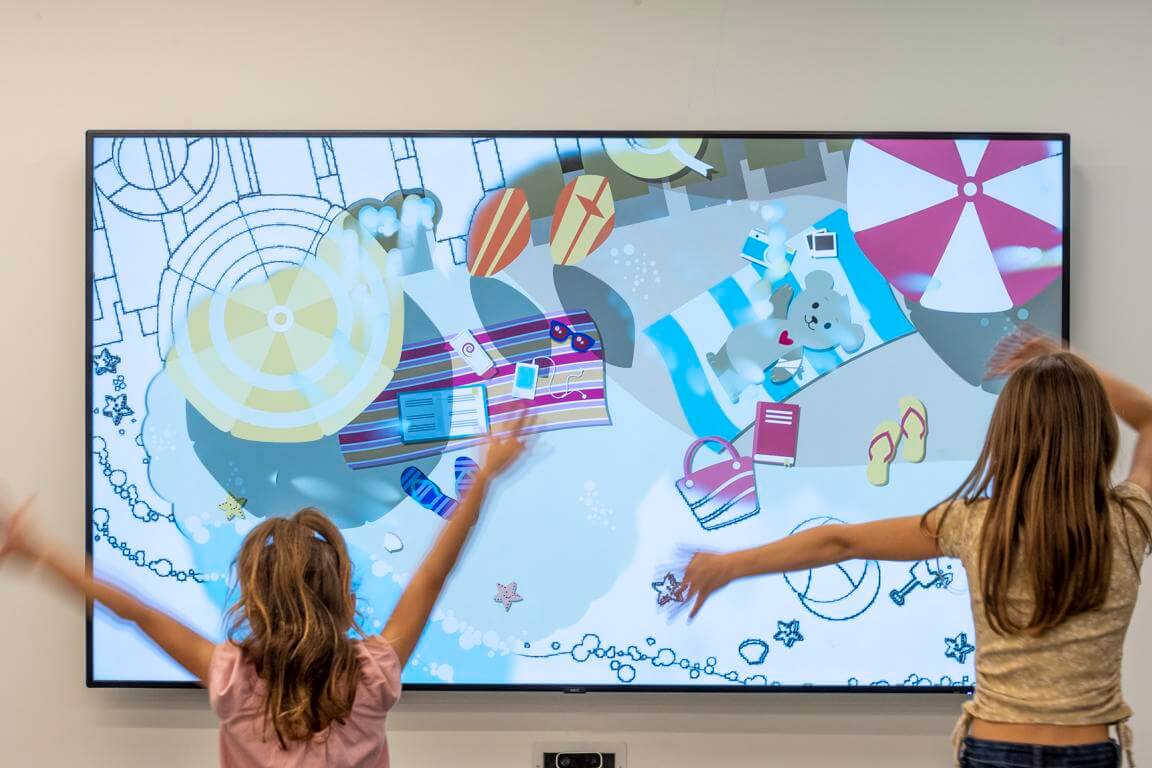 CreatureVerse is a customizable platform that allows kids and adults alike to create unique, personalized avatars that interact in a virtual environment. After users create their avatar, they place it into the CreatureVerse where it can mingle with other whimsical characters in a multitude of fantastical landscapes. It is an adaptable system that helps organizations create an engaging, educational, and entertaining digital experience while putting audiences in the driver's seat. Further customization is available to add mini-games and multiple unique environments. CreatureVerse takes gamification and positive distraction to new heights.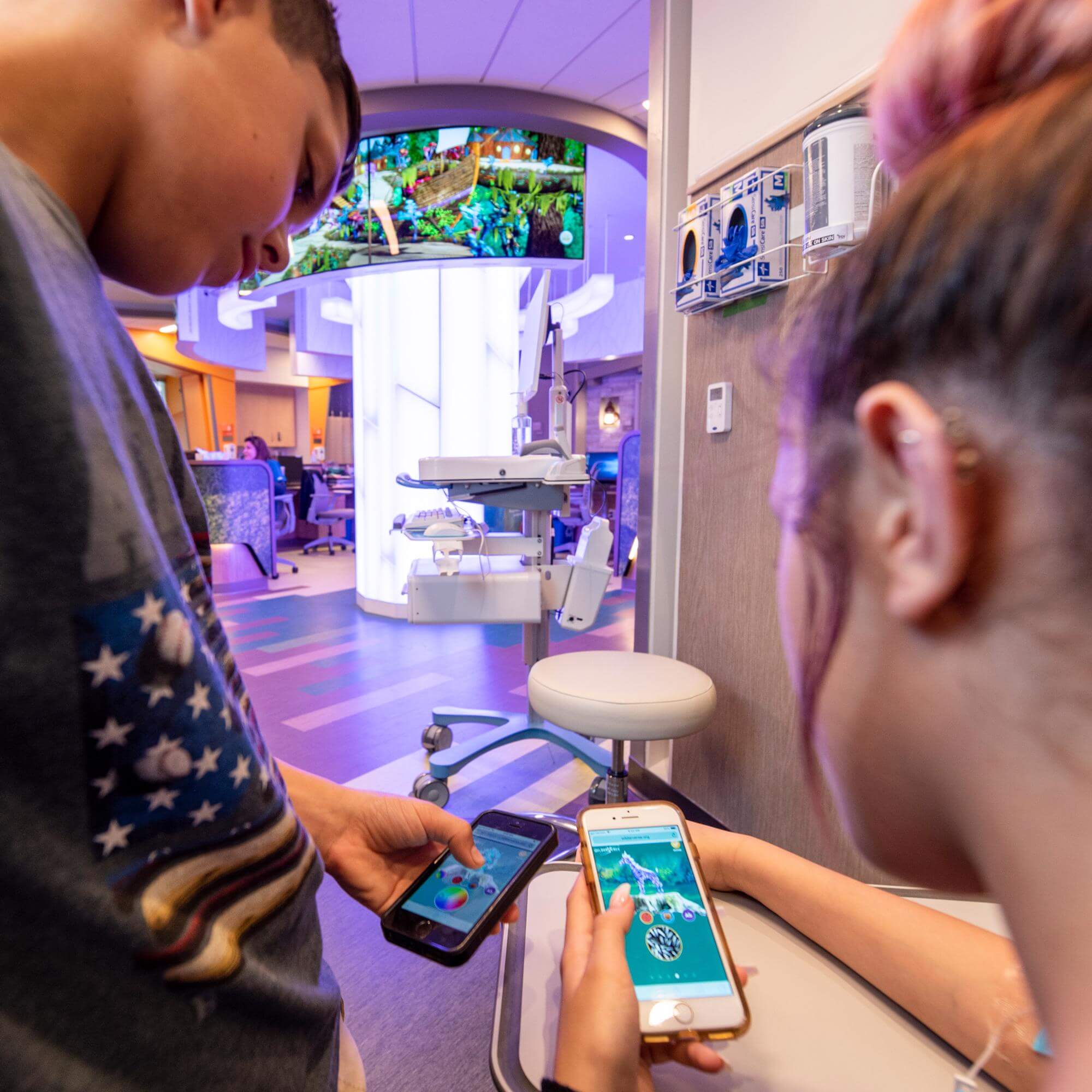 Looking Ahead...
As we look ahead to the New Year, we anticipate that many of the challenges raised in 2021 will continue into 2022. Additionally, based on conversations we've had and reports from the CDC, we expect to see an elevated focus on Behavioral and Mental Health.
An unfortunate side effect of the pandemic has been a dramatic increase in Mental Health-related Emergency Department visits. While the ED is often the first point of care for a child experiencing a mental health emergency, it is not the ideal location to engage with and treat patients in a mental health crisis. Typically, an ED will have a room (or a set of rooms) designated as "Safe Rooms."
Several healthcare organizations have approached DI to collaborate on how we might re-imagine the safe room experience. The goal is to transform the space from a described jail cell environment into a more therapeutic, calming and relaxing space, while also offering some sense of control to the patient. Studies have shown that body movement, engaging with art and providing a sense of control are ways to help de-escalate and calm patients. With this in mind, many of our conversations have centered around using projection and gesture-based technologies to create immersive, calming spaces that limit the ability for destruction and self-harm—while still offering control and encouraging body movement.
Behavioral and Mental Health are important to our team. There is a lot of exploration still to be done, but we believe we are well-suited to dream big and help bring innovative solutions to life that will address this urgent need.
We are so grateful for our client partners, who have trusted us to help them navigate these challenges and successes this past year. We are just getting started and look forward to exploring more innovative ideas as we move into the New Year.
And in closing, a thank you...
We'd like to say a special thank you to some of the partners that we have been fortunate enough to work with over the past year:
HKS
EYP
Perkins + Will
Carilion Clinic
Children's Health
Children's Healthcare of Orange County
Children's Wisconsin
Cook Children's
Centura Health
Children's Mercy